Description

The American Freedom Alliance invites you to our FIRST ANNUAL Summer Picnic!

Join other AFA members and friends for an afternoon of food, fellowship and just plain fun!
And we are delighted to announce our speakers, Phelim McAleer and Trevor Loudon, two courageous men committed to unveiling truths that too many do everything to conceal.


Phelim, together with his wife Ann, was an AFA Heroes of Conscience honoree in 2014. They are the filmmakers who brought us FRACKNATION, debunking the anti-fracking propaganda, and the upcoming GOSNELL movie. In addition, they are working on "Clinton Emails on Film," a precise recreation of portions of Clinton's staff's under-oath testimonies.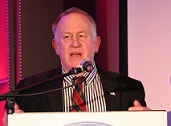 Trevor Loudon is an author and speaker, an AFA Fellow, and one of the speakers at last month's Heroes of Conscience Dinner. He also has a movie coming out later this summer based on his book, The Enemies Within.
BBQ menu:
Variety of Salads
Ribs - Chicken - Hot Dogs - Burgers
Dessert Buffet
Beverages

We're looking forward to seeing you there!