AFA Exclusive! European Free Speech Champion Elisabeth Sabaditsch-Wolff
Description
AFA EXCLUSIVE EVENT!
Free-Speech Advocate
ELISABETH SABADITSCH-WOLFF
in her ONLY California Appearance
December 1st at 7PM at the Luxe Sunset Boulevard Hotel
**NOTE addition of Hors D'oeuvres Reception at 6PM! Included with $15 ticket!**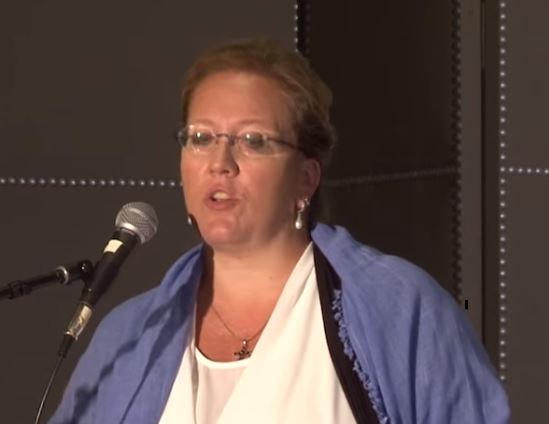 Fearless free-speech advocate Elisabeth Sabaditsch-Wolff has been the defendant in a terrifying and far-reaching landmark case. On October 25th, the European Court of Human Rights upheld her 2009 Austrian conviction, deciding that Europeans' right to free expression is less important than the protection of muslims' feelings. In fact, the ECHR has chosen to support Sharia blasphemy laws over the rights of European citizens in a stunning capitulation.
Andrew McCarthy describes the situation here, and Soeren Kern of The Gatestone Institute here. Katie Hopkins' article about the suit and Elisabeth is here.

The American Freedom Alliance is honored to host Elisabeth on December 1st in her only California appearance since the ECHR's decision. We have hosted her here in LA twice in the past ( Read here, and watch her talk at our Islam conference here) and she is a dynamo of a speaker and activist, and a fearless fighter for free speech. She will be speaking about the lawsuit, the decision, why we all should be concerned and how we can all fight back against the incursions against free speech and free expression.
From Elisabeth's statement following the ruling:

"The ECHR found there had been no violation of Article 10 (freedom of expression) of the European Convention on Human Rights and that right to expression needed to be balanced with the rights of others to have their religious feelings protected, and served the legitimate aim of preserving religious peace in Austria.
"In other words, my right to speak freely is less important than protecting the religious feelings of others.
"This should ring warning bells for my fellow citizens across the continent. We should all be extremely concerned that the rights of Muslims in Europe NOT to be offended are greater than my own rights, as a native European Christian woman, to speak freely.
"I am proud to be the woman who has raised this alarm.
"I am also optimistic...

"The cultural and political threat posed by Islam to Western societies is now widely recognized and discussed. It is fair to say European society, as well as the political realm, is undergoing an enlightenment, as it is more awake than ever to the need to defend our own Judeo-Christian culture....
"It is obvious to me that public education and discourse on the subject of Islam can have a fundamental and far-reaching impact, even if our state or supra-national authorities try to stifle or silence it, in order to appease a culture so foreign to our own.
"This fight continues. My voice will not and cannot be silenced."
As Katie Hopkins notes, "This judgement cannot and will not be allowed to stand. We must challenge the ECHR. We must fight back for the freedom to offend."
We hope to see you on December 1st.
6PM: Hors D'oeuvres Reception

7PM: Program begins