Location
Social Justice High School at the Miguel Contreras Learning Complex
322 S. Lucas Ave.
Los Angeles, CA 90017
Description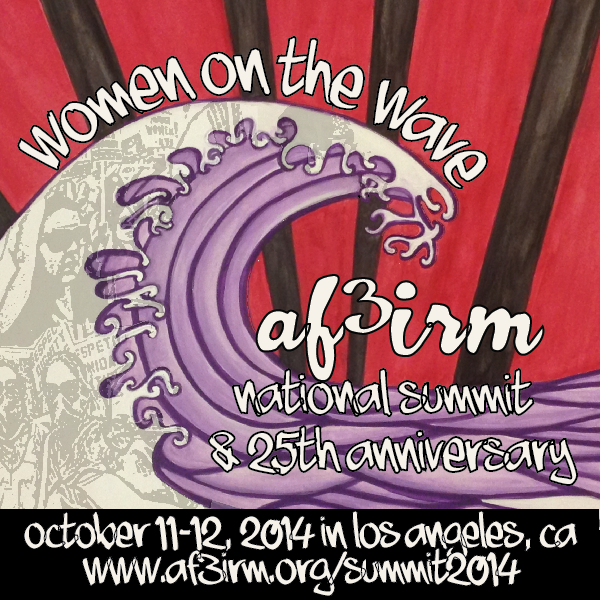 This October 11-12, 2014, AF3IRM calls together woman-identified individuals to examine the issues that impact transnational, immigrant, and women of color and

to transform, build and lead the next wave of feminism!

AF3IRM National Summit & 25th Anniversary: Women on the Wave
Saturday, October 11th & Sunday, October 12th
Miguel Contreras Learning Complex
We invite you to join us
to discuss transnational and five-continent feminist theories, youth and the Left, the creation of a new paradigm through transnational feminism, and transnational practices and intersectionality. We aim to bring together our allies in order to strengthen our understanding of one another's struggles, as well as to identify points of commonality in our political work.
This historic event will also celebrate AF3IRM's deep roots and its twenty-five years of
agitating, mobilizing and organizing against racist, heterosexist, capitalist patriarchy!
If you would like to attend the summit, but cannot afford the ticket prices because of economic need, please contact finance@af3irm.org and we will work with you to make sure you can attend.
AF3IRM is a transnational feminist, anti-imperialist organization. With chapters around the country, we aim to affect change through grassroots organizing, trans-ethnic alliance building, education, advocacy and direct action. Our political work challenges issues perpetuated by militarization, im/migration, and the human trafficking of women and children.