Description
Aesthetics realization from A to Z with VITA
21 August 2017 / 09:00 - 18:00
Singapore
Target Audience:

Dental Technicians




7 CE Credits
Eric Berger, DT, France
Eric Berger is a dental technician, graduated from the INSTITUT SUPERIEUR NATIONAL DE L'ARTISANAT, short ISNA University in Metz, France. After his graduation he continued with further training and specialization in Germany and opened his own laboratory in the year 1989. He is a well - known lecturer and consultant to the ISNA university in Metz and vice - president of the corporation of dental technicians of Moselle.
Course Objectives
· Different ways to search for hue (with Easy Shade).
· The macro dental photo (what kind of photos should we take?).
· The mapping of the hue from the pictures of references.
· Simulations of smile.
· The digital cut-back.
· The VM11 veneering.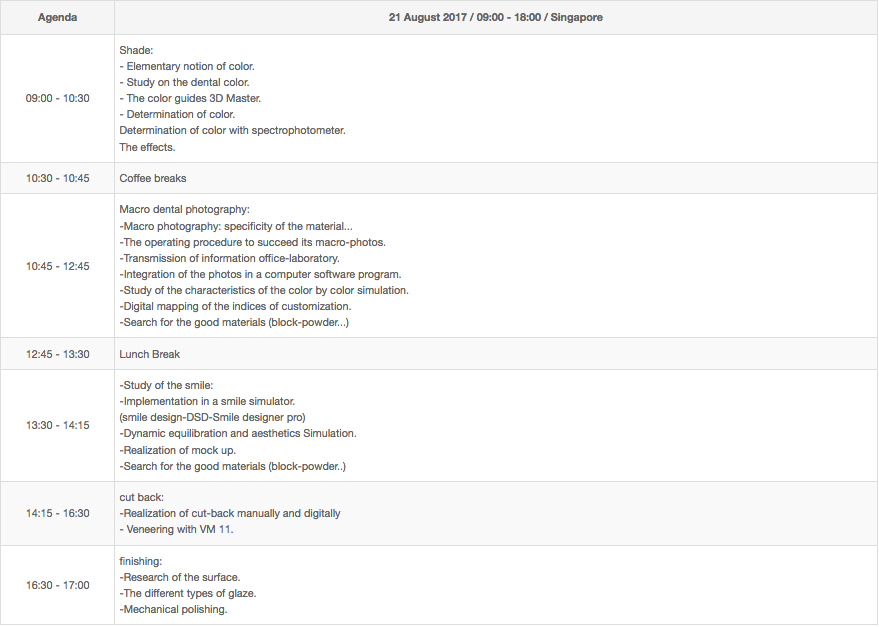 Please contact the event manager Marilyn below for the following:
- Discounts for registering 5 or more participants.
- If you company requires a price quotation.
Event Manager Contact: marilyn.b.turner(at)nyeventslist.com
You can also contact us if you require a visa invitation letter, after ticket purchase.
We can also provide a certificate of completion for this event if required.

NO REFUNDS OR TRANSFER ALLOWED ON REGISTRATIONS
-----------------------------------------------------------------
This Event Listing is Promoted by
New York Media Technologies LLC in association
with Centre for Advanced Professional Practices.
http://www.NyEventsList.com
http://www.BostonEventsList.com
http://www.SFBayEventsList.com
-----------------------------------------------------------------
SHU170321CEV