"Aerospace can be Fun" - AZ Chapter

Tuesday, November 10, 2015 from 7:30 AM to 9:00 AM (PST)
Event Details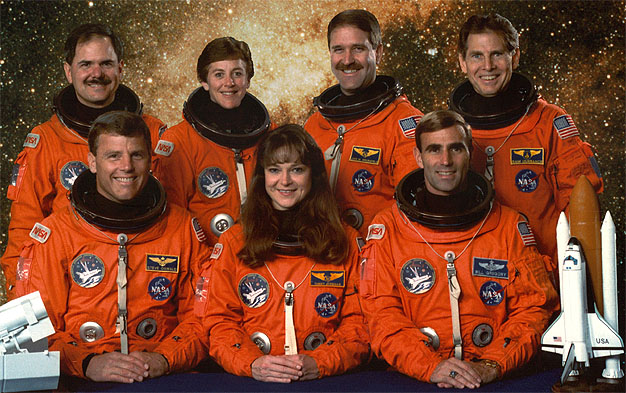 Guest Presenter:
Lt. Col. (Ret) Bill Gregory
Former NASA Astronaut
Advanced Instructor Pilot  
Aviation Performance Solutions LLC
William Gregory has a background in Aerospace matched by few.  Since his days at the USAF Academy beginning in the summer of 1975, he has studied Aerospace disciplines, been a pilot continuously for nearly 40 years, spent nearly a quarter-century in the military, and has spent the last 16+ years in the civilian world serving the Aerospace and Defense community.  Since 2014 he has been a member of the Arizona Governor's Commission on Aerospace and Defense.  He has a wealth of experience concerning what it takes to keep America airborne...from manufacturing aircraft parts from raw materials, to flying the Space Shuttle 200+ miles above the Earth's surface at five miles per second or twenty five times the speed of sound.
Gregory's talk will cover his career, from fighter pilot, to test pilot, to astronaut pilot, and currently as an instructor pilot.  Special emphasis will be given to his flight in space [STS-67] and will include a video of the mission.  Hopefully this will pique your interest in the history of the United States' space program, where it is today, and where it will go in the future.  He will also cover his current occupation of teaching pilots how to recover from out-of-control situations. 

Unless you are the rare breed who refuses to fly in a corporate or commercial jet aircraft, you will be interested on what changes are afoot to make your next flight a safer trip through the skies.  There will be ample time for Q&A.
Lt. Col. (Ret) William G. Gregory is a former NASA Astronaut.
Between 1981 and 1986, Lt. Col. Gregory served as an operational fighter pilot flying the D and F models of the F-111. He attended the U.S. Air Force Test Pilot School in 1987, and between 1988 and 1990, he served as a test pilot at Edwards Air Force Base flying the F-4, A-7D, and all five models of the F-15. Having flown in excess of 40 types of aircraft, Gregory has accumulated more than 7,000 hours of flight time.
Selected by NASA in January 1990, Lt. Col. Gregory became an astronaut in July 1991. His technical assignments included Shuttle Avionics Integration Laboratory; Astronaut Office Representative for Landing/Rollout, T-38 Flying Safety; Kennedy Space Center Astronaut Support Personnel; Capsule Communicator in mission control; Astronaut Office Representative for Rendezvous and Proximity Operations; and Spacecraft Operations Branch Chief. He has logged 400 hours in space.
Lt. Col. Gregory served as the STS-67 pilot on the seven-person astronomical research mission aboard the Space Shuttle Endeavour. The crew established a new mission duration record of 16 days, 15 hours, 8 minutes and 46 seconds, while completing 262 orbits and traveling nearly seven million miles.
After retiring from the Air Force and leaving NASA in the summer of 1999,  Lt. Col. Gregory spent nine years in Phoenix, AZ, with Honeywell Defense & Space as the Senior Sales Manager for Human Spaceflight, landing the avionics role on the Crew Exploration Vehicle. Beginning August 2008, he spent two years as Vice President of Business Development for Micro-Tronics, Inc., in Tempe, AZ. Then, in November 2010, he was named as Vice President of Business Development for Qwaltec, Inc for 2.5 years. Since April 2013, Gregory has been an Advanced Instructor Pilot for Aviation-Performance-Solutions in Mesa, AZ flying the Extra 300L, in addition to his Pitts Special S-2C.
Lt. Col Gregory has a
Bachelor of Science in Engineering Sciences from the United States Air Force Academy, a Master of Science in Engineering from Columbia University, and a Master of Science in Management from Troy State.
He has competed in the World Championships for Duathlon and the IRONMAN Triathlon.
When & Where

Greenberg Traurig
2375 East Camelback Road
#700
Phoenix, AZ 85016


Tuesday, November 10, 2015 from 7:30 AM to 9:00 AM (PST)
Add to my calendar
Organizer
The Aerospace & Defense Forum
The Aerospace & Defense Forum is a global aerospace and defense leadership community of over 1800 with seven chapters providing opportunities for sharing of information, current events, and analysis, mutual support and encouragement, partnering, innovation, and performance breakthroughs.
Website: AerospaceDefenseForum.org
"Aerospace can be Fun" - AZ Chapter