Description
Aerial Pilates workshop with Josephine Dorado
Saturday, 4 March 2017, 16:00-18:00
Appropriate for all fitness levels, Aerial Pilates combines Pilates principles with the use of aerial hammocks to lengthen, strengthen & tone the body through fun, challenging moves. Many of the movements in the Pilates technique engage the core while toning the overall body, and these movements are naturally translatable onto an aerial apparatus, thereby targeting the deeper muscles of the body with less strain and more openness. Both playful and rigorous, Aerial Pilates develops strength, balance, flexibility and core stability simultaneously.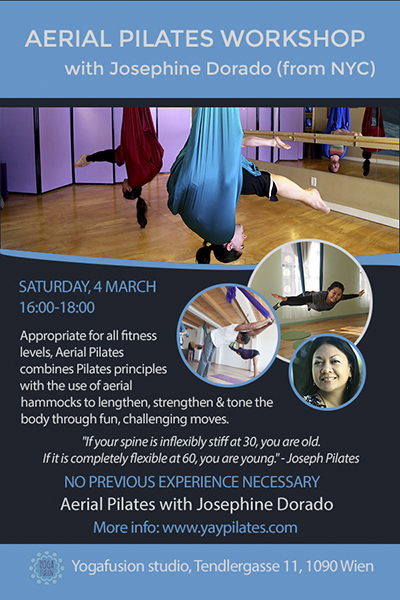 The aerial hammock is a piece of equipment made of weight-tested, specialty non-stretch nylon which enables 3-dimensional movement and inversions that help re-align and decompress the spine. The suspension safely creates controlled instability which strengthens your inner joint muscles. The hammock helps support the weight of the body so that you can stretch further with less strain while strengthening the core and fine-tuning balance. The classes are designed to build strength and flexibility while having fun!
No previous Pilates or Aerial experience is necessary!
Clothing recommendations: fitted clothing, ideally underarm and backs of the knees covered. Bare feet or grip socks are acceptable.
Contraindications: Heart conditions, glaucoma/eye pressure issues, pregnancy, spinal conditions that are aggravated by decompression, those on medication for blood pressure. *These indications are due to inversions
About the instructor: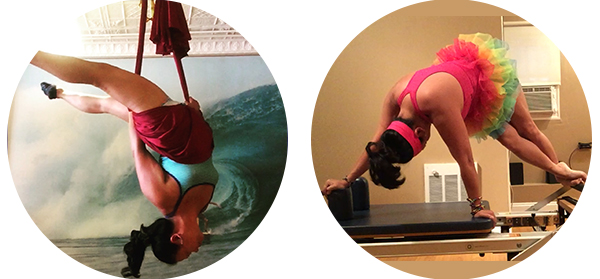 Josephine Dorado is a Pilates instructor, professor and artist based in NYC. With certifications and experience in Pilates, Prenatal Pilates, Aerial Pilates and TRX suspension training, she strives to provide a challenging and fluid workout with a holistic, well-rounded approach. She applies her varied skills acquired through Pilates, dance, therapeutic movement, martial arts and aerial training to enhance the embodied experience. Josephine is also the President Emeritus of Fulbright's New York Chapter and a media studies professor at The New School. Her work has been awarded both a Fulbright Scholarship and a MacArthur Foundation Award in Digital Media & Learning. She balances her work in online spaces with her passion for healthy lifestyle and fitness, combining a technology-infused life with a physical, embodied way of being. Smart workouts = smart brains & bodies = smart living, and a healthy core and lifestyle are integral to that. www.funksoup.com www.yaypilates.com Twitter: @funksoup Instagram: @funksoup