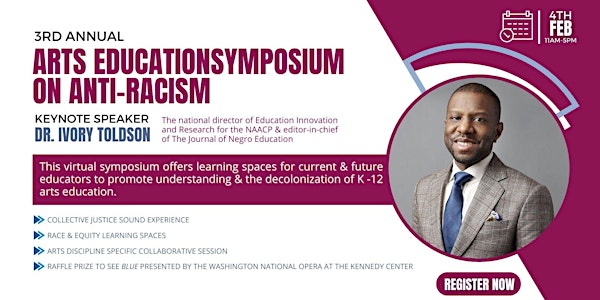 AEMS 3rd Annual Arts Education Symposium on Anti-Racism
Join us for a day of compelling sessions to deepen your understanding of anti-racism and abolitionist teaching in arts education.
About this event
The 3rd Annual Arts Education Symposium on Anti-Racism returns with keynote speaker Ivory Toldson Ph.D., national director of Education Innovation and Research for the NAACP, professor of counseling psychology at Howard University and editor-in-chief of The Journal of Negro Education.
Participate in healing and learning sessions in affinity spaces with expert facilitators, collaborate in anti-racism arts education breakouts for each arts discipline, and more.
The symposium is hosted by Arts Education in Maryland Schools, a nonprofit organization based in Baltimore that is committed to ensuring that all students in the state of Maryland have access to high quality arts education by mobilizing power to communities through advocacy programs, professional and leadership programs, and resource building and sharing.
Contact info@aems-edu.org for more information.
SCHEDULE OVERVIEW
11:00 - 11:15 AM
LAND ACKNOWLEDGEMENT + SOUND EXPERIENCE
with Rebecca Kelly G
11:15 AM - 11:30 AM
SYMPOSIUM WELCOME
with Rachel McGrain, AEMS Executive Director
11:30 AM - 12:15 PM
KEYNOTE SPEAKER
Dr. Ivory Toldson
12:15 PM - 1:30PM
LUNCH BREAK
1:30 PM - 2:15 PM
RACE-EQUITY FACILITATION
with Dr. David Fakunle &  Camille Weanquoi
2:30 PM - 3:15 PM
RACE 101: LEARNING SPACE
with Amy Smith
HEALING SPACE FOR PEOPLE OF THE GLOBAL MAJORITY 
wtih Rebecca KellyG
3:30 PM - 5:00 PM
ANTI-RACIST PEDAGOGY SESSIONS - BY DISCIPLINE
Community Arts: Miko Lee & Khaleshia Thorpe-Price
Dance: Susan McGreevy-Nichols & Karen Kuebler
Music: Debbie Confredo & Brian Schneckenberger
Theatre: Katyana Dandridge & Julian Lazarus
Visual Arts: Paula Liz & Rachel Valsing