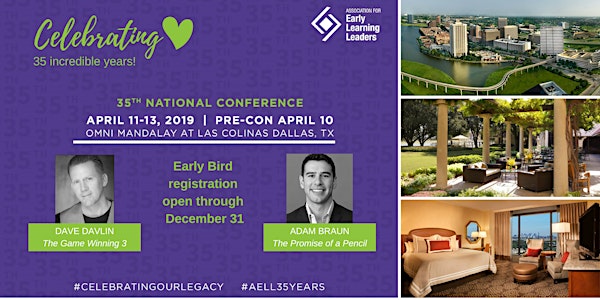 AELL 35th National Conference, How Successful Directors Lead
When and where
Location
Omni Mandalay Hotel at Las Colinas 221 East Las Colinas Ave Irving, TX 75039
Description
Everything is bigger in Texas and our 35th anniversary conference in April 2019 will be no exception!
Come celebrate with us!
"Legacy is not leaving something for people. It's leaving something in people." ~ Peter Strople
In 2019, the Association for Early Learning Leaders will celebrate 35 years of investing in leaders in early care and education from all over the nation and beyond. With a laser focus on developing high quality, equipped and empowered leaders, the Association has become the resource for directors, owners and administrators. The ripple effect of our investment in leaders has been and continues to be far reaching and incredibly important as it ultimately impacts the youngest learners and those who teach and care for them.
We invite you to be part of this very special conference honoring the Association and the leaders we serve! This is a must do on your 2019 Training Calendar.
REGISTRATION
Register Early and Save $$ and Your Seat! Not only will you save money by registering early, you will receive priority scheduling of your sessions when the full schedule is released in the fall of 2018. Early Bird registrants will have a two week window to select their conference schedule before it is opened to the public.

Half Now/Half Later Payment Option: We are happy to accommodate a split payment option of half now and half later. When indicated during the registration process, select "invoice" and follow the instructions provided.

Breakout Session Selection: Planning of the full conference schedule is currently underway. Session selection

Groups of 4 or More: Click on the promotional code link in the top right corner of the ticket selection window and use the discount code GROUP to receive your 10% discount. Hit the back arrow in the left corner to get back to the ticket selection window and your updated rates.
Special Conference Events
Leader's Night Out!
Wednesday, 4/10, 7:30 p.m.- 10:30 p.m.
Cost: $139 per person
Experience 360 degree views of Dallas from the top of Reunion Tower as you dine on mouth-watering offerings from Wolfgang Puck's world renowned restaurant and complimentary wine, beer, and soda. This will be a night to remember as you mingle with friends, new and old! Your Leader's Night Out experience also includes transportation and a complimentary ticket for the GeO Deck.

The cost for this event is $139 per person. Space is limited so reserve your place early!
*Event limited to conference registrants and conference guests
Pre-Conference: Keys for Successfully Marketing & Branding Your Business
with the Deluxe Team!
Wednesday, 4/10, 1:00 p.m.- 5:00 p.m.
Cost: $99 per person with conference registration / $159 per person non-conference registrants
​If you are searching for ways to be more of a presence in your community and stand out in the crowd of centers in your neighborhood, this interactive, extended pre-conference session with the small business experts from Deluxe is a must for your conference experience! Bringing the same strategies and resources you've seen on Hulu's hit show, "Small Business Revolution", the Deluxe team will set you on a course to success!
​
WHO SHOULD ATTEND?
Early Care and Education Directors, Owners, VPs & Managers, Agency Administrators, Education Coordinators, Specialists, Trainers & Consultants, Assistant Directors and Emerging Leaders.

WHERE CAN I CONTACT AN ORGANIZER WITH QUESTIONS?
Email us at events@earlylearningleaders.org or call 512-301-5557.
WHAT IS THE CANCELLATION POLICY?
REGISTRATION CANCELLATION: All cancellations must be made in writing and sent to events@earlylearningleaders.org. Cancellations received on or before February 1, 2019 are refundable minus a $40 processing fee. Cancellations received between February 2 - March 10, 2019 are refundable minus a $125 processing fee. No-shows and cancellations received after March 10, 2019 will not be eligible for a refund.
REGISTRATION TRANSFERS: Registration is transferrable without penalty or funds can be applied to another posted AELL training event.
CAN I UPDATE MY REGISTRATION INFORMATION?
Yes! You can update your registration information at any time. Just email events@earlylearningleaders.org for assistance.
ACCOMMODATIONS:
We recommend that you make your lodging reservations early! Our 2018 room block sold out as well as the hotel itself before our room block date expired and many of our campers had to stay at nearby hotels. To make your reservation online visit:
Omni Mandalay Hotel at Las Colinas, Dallas
Special AELL rates are available now through March 18, 2019.


SHUTTLE/TRANSPORTATION
TO MAKE AN AIRPORTSHUTTLES.COM RESERVATION: (Works for both DFW & DAL)
Click on the link above. Choose the service you would like to book, click on the "book trip" button. On the reservation page, locate the coupon code entry field on the right-hand side of the screen in the booking overview section and click on the "ADD" button. Then enter your coupon code to receive your group discount.
Promo Code is: ELL2019
Once you finish booking your reservation an email confirmation will be sent to you which will include all of the details of your reservation including your confirmation number. It will also include instructions on where to meet your shuttle when you arrive at the airport.


VALID THROUGH: 12:00 am 4/30/2019
LOCATION: Dallas
DISCOUNT: 5% Off for Each Reservation
Other cost effective transportation options include Uber and Lyft.
DRIVING | PARKING
The Omni Mandalay Hotel is pleased to offer complimentary self-parking if you are driving in for this event.