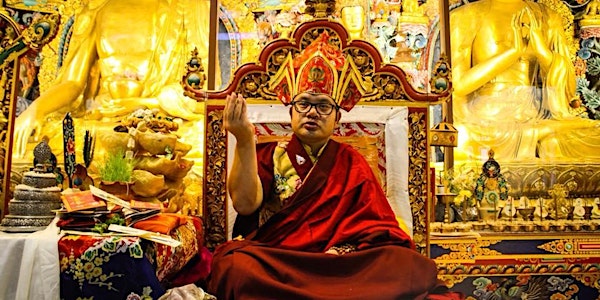 ADZOM GYALSE RINPOCHE: Q & A VIRTUAL SERIES JULY 10 &11 AND JULY 17 & 18
Worldwide virtual series: Adzom Gyalse Rinpoche will answer practitioners' questions on their meditative experiences.
Refund Policy
Contact the organizer to request a refund.
Eventbrite's fee is nonrefundable.
About this event
Adzom Gyalse Rinpoche: Your Questions – Rinpoche's Answers
A 2021 Summer Virtual Series: July 10 & 11, 17 &18 – 8 am to 9:30 am MDT
The Dzogchen Nyingthig Community is happy to announce a worldwide webinar series devoted to answering practitioners' questions. For an hour and a half on July 10th & 11th and July 17th & 18th Adzom Gyalse Rinpoche will respond to questions about your meditation practice. Practitioners of all levels are welcome including those who are new to Buddhism as well as seasoned practitioners who have been on the path for years.
We invite you to hear poignant responses to lingering questions, get clarification on a range of Dharma topics, find out about best practices, and broaden your understanding of your meditative experiences. What is the benefit of this Q & A virtual series?
Rinpoche writes: "It will create better bonds between the teacher and the student. Communication between the master and the student is important to practicing clean and clear dharma. A "Questions and Answers" retreat will provide new practitioners with basic knowledge and clarify the doubts of those who have been practicing for years. Everyone's understanding of the Dharma will increase."
Adzom Gyalse Rinpoche has a direct, unbroken lineage back to Longchenpa. He was recognized by Dilgo Khyentse Rinpoche as the tulku of the great Gyurme Dorje, the eldest son of Adzom Drukpa. Adzom Drukpa Rinpoche achieved the Rainbow Body in 1925 and many of his disciples also accomplished the Rainbow Body.
At an early age Adzom Gyalse Rinpoche began receiving teachings, transmissions and empowerments from many eminent masters including HE Shechen Rabjam Rinpoche, Lama Serpo Rinpoche, HH Dalai Lama, HH Trulshik Rinpoche and HH Penor Rinpoche, and HH Dilgo Khyentse Rinpoche. Dilgo Khyentse Rinpoche was Adzom Gyalse Rinpoche's root guru.
Rinpoche is the master of all annual ceremonies at Shechen Monastery in Kathmandu, Nepal and at some branch monasteries in Bhutan. He also gives guidance to monks in three-year retreat at his retreat center in Bhutan. For more biographical information, please see his website: adzomgyalsetulku.com.
Erik Drew will be translating for Adzom Gyalse Rinpoche. Erik has been a Tibetan translator for over 30 years. In his youth he spent several years living as a monk at Rumtek Monastery under the guidance of His Holiness the 16th Karmapa. He has translated for dozens of lamas over the years and his translation skills are appreciated all over the world.
Rinpoche will be teaching from Thimphu, Bhutan and Erik will be translating from Hawaii.
As this is a worldwide online series, the starting times on July 10 & 11and 17 & 18 are different for each time zone. The teachings will begin at 8 am Mountain Time. Search here for the time in your time zone: http://www.thetimezoneconverter.com
Rinpoche will teach for an hour and a half each day.
The webinar will be on Zoom. Registrants will be emailed the Zoom link and password prior to the July 10th teaching. The same link and password will be used for the subsequent teachings on July 11th, and 17 & 18. You will also receive the link to the recordings of this virtual series. The recordings will be available for one week after the live session.
Each participant is invited to submit 2 concise questions. Rinpoche will answer your number 1 question and, if time permits, he will provide an answer to your second question. You will be sent information on where to send your questions after you have registered for the teachings.
We are asking registrants to please be generous and participate in the giving of dana for these priceless teachings. Dana or generosity is an offering given from the heart. By giving dana one also establishes an auspicious karmic connection with the teacher and the teachings.
We understand that we are living in a challenging time financially, so we are suggesting a 3-tiered donation based on a sliding scale of what people can and want to offer. The suggested dana donation is: $75/$130/$200
The total dana received will include dana for Adzom Gyalse Rinpoche for his teachings, for Erik Drew for his translating, and for expenses incurred by the Dzogchen Nyingthig Community in organizing and hosting the webinars.
No one will be turned away from these teachings due to financial hardship. If you cannot afford any donation, please contact Ani Tsultrim Lhamo. Her email is: whitejewelmountain@gmail.com for instructions on how to register.
When you register for the event there is a place to enter the amount of money you are donating.
If you have any questions on these virtual teachings, please call Ani Tsultrim Lhamo at 719 588-4632 or email her at: whitejewelmountian@gmail.com
E Ma Ho!