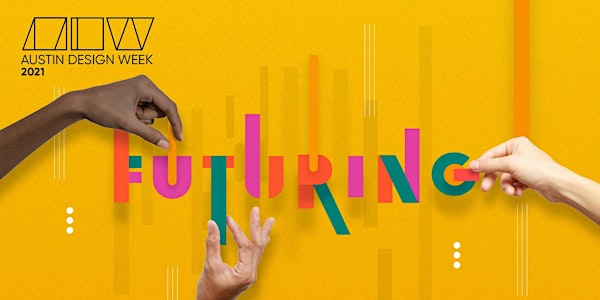 #ADW21: Workplace Design for Neurodiversity
Join us for the sixth annual Austin Design Week!
When and where
Location
Cushing Terrell 316 West 12th Street Suite 300 Austin, TX 78701
About this event
Workplace Design for Neurodiversity
Organized by: Cushing Terrell
It's time for workplace designers and employers to learn how to incorporate a strong understanding of workplace design strategies to enable the broad range of neurodiverse adult workers to thrive and contribute in a competitive job market. Adults with Autism Spectrum Disorder are radically disadvantaged when it comes to employment opportunities yet so many are amazingly high-performing employees when given the opportunity and a work environment that sets them up for success. In fact, neurotypical workers also span a wide range of neurodiversity and thrive in different work environments. Better workplace environments can be designed with a clear understanding of individual worker's neuro-sensory profiles and the design strategies that enable those workers to thrive.
Attendees will learn how we can use neuro-sensory profiles to inform design decisions and how to apply intentional design choices to best accommodate various profiles for workers with ASD as well as all neurotypical workers.
This event is open to anyone, including employers, designers, architects, healthcare industry professionals, and EDI advocates.
James Foster | Architect, Cushing Terrell
James is an Architect & Partner in Cushing Terrell leading the firm's Austin studio. Focusing primarily on creative, innovative work in commercial, institutional, retail & advanced technology domains, A significant part of James' work is focused on technology clients from small start-ups to top Fortune 100 corporate clients. James is inspired by the amazing people in the firm and by the incredible clients they are fortunate to work with. Since helping to found the 16-year-old Austin office he continues to champion the firm's 83-year legacy aspiring to pioneer new ways to imagine, create & improve holistic design solutions for built and natural environments.
Cushing Terrell is an integrated, multi-discipline design firm working in a wide range of markets from private to public including commercial/retail, institutional, retail/hospitality and multifamily/single family residential. With 13 offices the firm is licensed in and works in all 50-states as well as internationally.
James, originally from Colorado, has made Austin home since the age of 12. He later earned his degree from the University of Texas School of Architecture and continues to make Austin home with his wife, Kellye (a native Austinite). James' adult children, Theresa and Andrew, along with his wife Bekah, also live nearby in Austin.
Alison Ducker | Senior Interior Designer, Cushing Terrell
Alison is an NCIDQ licensed commercial interior designer with a passion for workplace and hospitality planning and design. Alison is a lead project designer for a wide range of projects varying in complexity and scale but all with a refined sensitivity to design and with an uncompromising level of client service.
Alison brings a particular interest and deeper understanding of the design needs necessary for creating supportive environments for individuals on the Autism Spectrum.
Alison received her Bachelor of Fine Arts in Interior Design from Georgia State University. Along with her husband and children, Alison has made Austin her home for the last two years.
Amy Rohsner | Founder & Chief Operations Officer, Healthworks Ergonomics
Dr. Amy Rohsner, PT, DPT, ATC, CEAS is the Chief Operations Officer and Co-Founder of Healthworks Ergonomics. Amy's love of sports, medicine, and her strong desire to empower people at a young age motivated and inspired her to become an Athletic Trainer and Physical Therapist. After pursing her undergraduate degree and becoming a Certified and Licensed Athletic trainer from Southwest Texas State University in 1999, she went on to earn a Masters of Science Degree in Physical Therapy in 2003 when Southwest Texas State University also earned the name Texas State University. Amy is also a Doctor of Physical Therapy completing her doctoral studies at Texas Tech Health Science Center in 2013.
Since 2003, Amy has been a Physical Therapist to many "makes and models" of human beings with varied physical dysfunction and pain (acute & chronic) created by injury, illness, and/or a specific medical condition, which is the textbook reason for becoming a Physical Therapist.
Amy credits the unique and diverse "makes and models" of clients for teaching her how to thinks outside the textbook as a PT. Amy's professional expertise and success comes from learning from the perspective of her clients and studying the diverse therapeutic interconnectivity between one's mental, physical, spiritual, and emotional being. This unique clinical approach has allowed Amy to better empower clients with the therapeutic tools and resources specific and unique to their overall health and well-being. Furthermore, in the more recent years, her clinical experience has influenced and developed her particular interest in assessing neuro-sensory needs of diverse populations by integrating ergonomics and design in the workplace.
Parking & Transportation:
There is street parking available nearby. Be sure to check out our sustainable transportation recommendations. This venue is ADA accessible.
ADW21 Event Information:
The health and safety of our attendees, participants, and greater community is extremely important to us. Please be sure to check out our Health & Safety at ADW21 page for the latest safety updates and policies surrounding in-person events.
You'll be emailed any additional instructions for how to join the event at least 24-hours prior to the event start time. The information will be sent via Eventbrite so please check your spam if you don't see it in your inbox.
Austin Design Week is committed to a harassment-free event experience for everyone. Our Code of Conduct can be found here. We are also committed to creating an inclusive, accessible space. All virtual events will have automated captioning. If you need additional accommodations, please email us at info@austindesignweek.org as soon as possible to let us know.
For the full Austin Design Week schedule, check out austindesignweek.org.