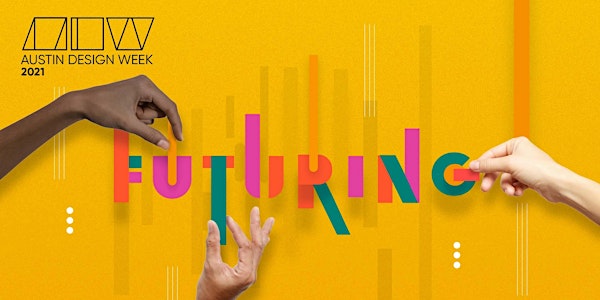 #ADW21: What Are You Bringing to Your Collaboration?
Join us for the sixth annual Austin Design Week!
About this event
What Are You Bringing to Your Collaboration?
We hear it all the time.
"Collaboration is essential. This is a group project. You'll need to be a key cross-functional collaborator." Or maybe it's "partner with two to three classmates to work on this paper." Perhaps it's, "I need the three of you to bring your expertise together for this client pitch next week…"
We're constantly being asked to collaborate at school and work. Some people love it; others hate it. Some think it will ruin all that's good about their idea. Others know that, without collaboration, giant gaps in thinking will be the only sure thing. All the while, there are few discussions about how to collaborate.
Somehow, we're expected to know how to do it successfully. Little time is spent on how to be a good collaborator and how diversity can improve a single-threaded idea. This is something that needs to be discussed and improved.
This event is open to anyone, including folks working on wicked problems or navigating diverse perspectives.
Jodi Cutler | Design Principal, IBM
Jodi has spent the last 25 years of her career designing the conditions for people to be successful. Seeking every opportunity to play with people who share a vision for high impact outcomes and a willingness to build trustworthy relationships to do work that matters. She currently works at IBM's Watson Health.
ADW21 Event Information:
The health and safety of our attendees, participants, and greater community is extremely important to us. Please be sure to check out our Health & Safety at ADW21 page for the latest safety updates and policies surrounding in-person events.
You'll be emailed any additional instructions for how to join the event at least 24-hours prior to the event start time. The information will be sent via Eventbrite so please check your spam if you don't see it in your inbox.
Austin Design Week is committed to a harassment-free event experience for everyone. Our Code of Conduct can be found here. We are also committed to creating an inclusive, accessible space. All virtual events will have automated captioning. If you need additional accommodations, please email us at info@austindesignweek.org as soon as possible to let us know.
For the full Austin Design Week schedule, check out austindesignweek.org.