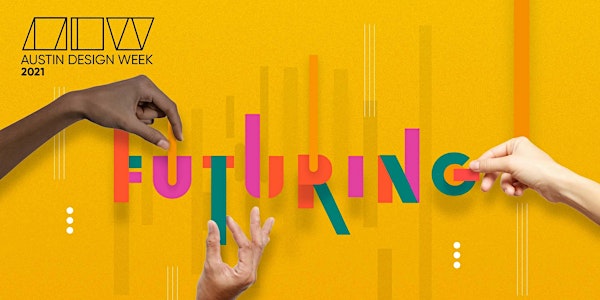 #ADW21: Retaining Talent and Growing the Next Generation of Great Designers
Join us for the sixth annual Austin Design Week!
About this event
Retaining Talent and Growing the Next Generation of Great Designers
Organized by: Austin Design Week
With 48% of professionals considering a job transition in this wave of "The Great Resignation,"design leaders are facing unique challenges to retain talent on their team. There is a flood of job postings and recruiter messages leading many designers to wonder about the potential for their career futures.
Join our panel of design leaders for insights on how these reputable design orgs are ensuring their teams have a professional home where they can aren't simply "retained" but are growing, skilling up, and thriving in their careers.
Why do great designers stay in a role?
How can we stay competitive with the multitude of opportunities in the market?
How can we encourage our teams to grow their craft and expand beyond current limitations in our field?
This event is open to everyone.
MODERATOR
Kelsey Hayenga, Co-founder, Lady Bird Talent
Kelsey Hayenga is the Co-founder of Lady Bird Talent, a community and talent acquisition agency on a mission to elevate 1,000 women into tech leadership. Kelsey partners with early stage companies across the US to help make key hires in Design, Product, and Engineering.
SPEAKERS
Marivi Carlton, Director of Product Design, The Zebra
Marivi is a Venezuelan immigrant, who deeply cares about raising awareness about inclusion and diversity in all aspects of her life. As the Product Design team leader at The Zebra, Marivi guides and scales her team while strengthening cross-functional relationships and setting the company's design standards. She has been a key contributor to the team, starting as a visual designer four years ago and growing her career into product design. During her time at The Zebra, she developed The Zebra's design system, brand identity and worked to build a culture that is always working toward design excellence. A proud Venezuelan immigrant, she co-founded Affinity, an employee-led and company-funded resource group, to support people of color and immigrants and give others like herself a voice at The Zebra. Marivi is passionate about all forms of design, and in her free time, she handcrafts jewelry for her side business Media Luna Market.
Tony Amidei, UX Director, Platform Experiences, PayPal
Tony is the UX Director of Platform Experiences at PayPal, which includes PayPal's design system (PayPal UI) and accessibility product and design teams, and UX for several of PayPal's common platforms, including Customer Support and Digital Identity. Prior to PayPal Tony has led design teams at companies ranging from small design agencies to Disney Interactive and Yahoo. In his spare time he bikes, plays bass guitar, and produces his kids' Youtube channels.
ADW21 Event Information:
The health and safety of our attendees, participants, and greater community is extremely important to us. Please be sure to check out our Health & Safety at ADW21 page for the latest safety updates and policies surrounding in-person events.
You'll be emailed any additional instructions for how to join the event at least 24-hours prior to the event start time. The information will be sent via Eventbrite so please check your spam if you don't see it in your inbox.
Austin Design Week is committed to a harassment-free event experience for everyone. Our Code of Conduct can be found here. We are also committed to creating an inclusive, accessible space. All virtual events will have automated captioning. If you need additional accommodations, please email us at info@austindesignweek.org as soon as possible to let us know.
For the full Austin Design Week schedule, check out austindesignweek.org.