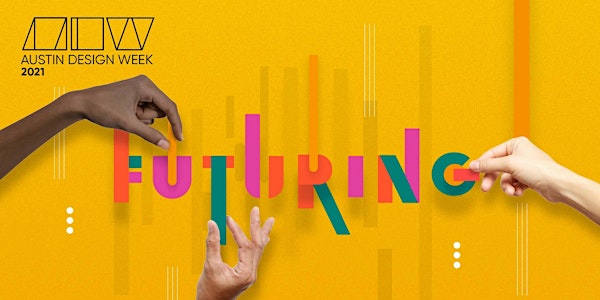 #ADW21: Psychological Safety and DEI to Enable Futuring
Join us for the sixth annual Austin Design Week!
About this event
Embracing Diversity: Psychological Safety and DEI to Enable Futuring
One thing is certain, we're all different; thus today's organizations must learn to embrace diversity. By identifying our assumptions, we can create psychologically safe spaces for people to be effective in designing current and future experiences that are inclusive and equitable.
We will do a condensed version of an assumption slam together then discuss how to incorporate this technique into business, so you can enable yourself and your organization to proactively create safe spaces for diverse individuals to articulate beliefs and have effective working relationships.
Join us as we open up the conversation around psychological safety, how it can enable futuring, and how you could apply this framework to help build futures everyone can get behind.
This workshop is open to everyone.
Speaker:
Robin Yip | Director of Product Design, The Knot Worldwide
Robin is a product design director whose ethos is to establish meaningful and equitable experiences that expand access, reduce user friction, and respectfully provide emotional context to the largest number of people. In her role at The Knot Worldwide, she's focused on empowering all couples to be able to bring their unique wedding vision to life.
As an active volunteer for organizations focused on bringing opportunities to those with the most need, Robin partners with companies, non-profits (SolveMIT, Pursuit, ChickTech), and communities to integrate human-centered design and connect technology to people's lives in purposeful ways.
ADW21 Event Information:
The health and safety of our attendees, participants, and greater community is extremely important to us. Please be sure to check out our Health & Safety at ADW21 page for the latest safety updates and policies surrounding in-person events.
You'll be emailed any additional instructions for how to join the event at least 24-hours prior to the event start time. The information will be sent via Eventbrite so please check your spam if you don't see it in your inbox.
Austin Design Week is committed to a harassment-free event experience for everyone. Our Code of Conduct can be found here. We are also committed to creating an inclusive, accessible space. All virtual events will have automated captioning. If you need additional accommodations, please email us at info@austindesignweek.org as soon as possible to let us know.
For the full Austin Design Week schedule, check out austindesignweek.org.