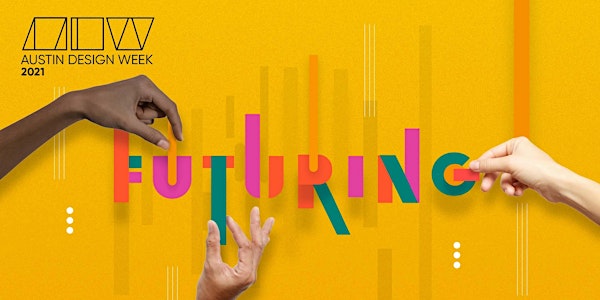 #ADW21: Participate in the ADW21 Design A Thon
Join us for the sixth annual Austin Design Week!
About this event
Design A Thon Kick-Off - Mini-Pitch Competition + Find Your Team
Welcome to the gauntlet! It's the fifth annual ADW Design A Thon. This is where Austin Design Week meets actionable change in our city. In this multi-part event, teams will compete to improve outcomes of some of Austin's biggest problems. We'll bring the big problems to solve, you bring the skill and passion to solve them.
Enter with your own team of creators, or come as an individual and get matched with others to form a new, awesome team. Only five teams will go on for the final competition! Past winning teams have included members from a variety of design disciplines and community members.
THIS IS A MULTI-PART EVENT, YOU MUST ATTEND ALL SESSIONS*:
*See registration information below
Overview of the Week:
Friday, November 5th 2:00 - 5:00 p.m. | Kick-Off: Mini-Pitch Competition + Find Your Team
During this initial kick-off session, our facilitators will lead attendees through the latest design methodologies and ideation processes. Participants meet with their team or get matched with a team if joining independently. They'll then work with their team and compete in the first mini-design challenge. The top five (5) teams will be selected to advance to the final round.
Monday, Nov 8th 5:00 - 6:00 p.m. | Finalists Assemble + Meet Your Mentor
The top five (5) teams will each be assigned a Mentor to work exclusively with them to offer support and guidance throughout the week leading up to the Final Pitches.
Thursday, Nov 11th 5:00 - 6:15 p.m. | Final Pitches + Awards Ceremony
This is it! The top five (5) teams present their research and proposed solutions to a panel of esteemed judges. Only one team will leave the winner. Each member of the winning team will each be awarded a prize!
Who should join?
Designers of all types and levels, Policy Wonks, Researchers, Activists, Developers, and the like; anyone looking to feel the rush of creating something from nothing in a short time is welcome. Gain skills, meet new people, win awards, make an impact in our community.
What do I get out of attending?
Meet an awesome new group of like-minded creators
Create something impactful in a super short amount of time
Learn from some of the best designer mentors in Austin
Awards! Yes, you'll get some sweet goodies for winning the competition.
Design Thinking + Workshop Facilitation mentorship
How to Register:
By signing up for this event, you are registering to participate in the ADW21 Design A Thon. You can register as a team of five (5) or individually. Teams or individuals may apply by registering for the kick off (please register for each person on your team separately). If you don't have a team at the time of registration, we'll assign you to a group during the kickoff event. All team members must be present for Kickoff and the Monday mentorship session. All are welcome and should attend the final pitches, too! Max of five (5) members are allowed per team and a minimum of two (2) team members to compete!
ADW21 Event Information:
The health and safety of our attendees, participants, and greater community is extremely important to us. Please be sure to check out our Health & Safety at ADW21 page for the latest safety updates and policies surrounding in-person events.
You'll be emailed any additional instructions for how to join the event at least 24-hours prior to the event start time. The information will be sent via Eventbrite so please check your spam if you don't see it in your inbox.
Austin Design Week is committed to a harassment-free event experience for everyone. Our Code of Conduct can be found here. We are also committed to creating an inclusive, accessible space. All virtual events will have automated captioning. If you need additional accommodations, please email us at info@austindesignweek.org as soon as possible to let us know.
For the full Austin Design Week schedule, check out austindesignweek.org.