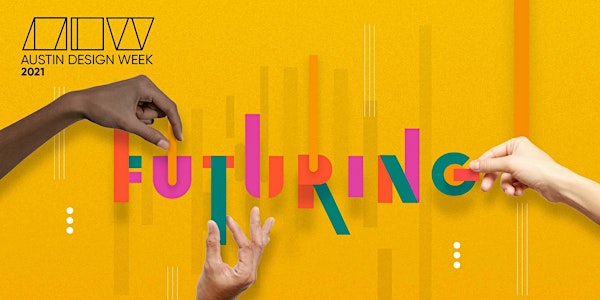 #ADW21: Painting the Town: How Murals Can Empower, Inspire, and Educate
Join us for the sixth annual Austin Design Week!
When and where
Location
Waterloo Park - Trinity Street Entrance 1401 Trinity Street Austin, TX 78701
About this event
Painting the Town: How Murals Can Empower, Inspire, and Educate
Organized by: Hope Campaign
During this session you'll hear from four movers and shakers in the Austin mural scene. With the rise of street art and graffiti in the last decade murals have become more mainstream. You can find murals in every community whether it's a beautiful work of art, a brand activation, a call to action, a visual history of a community, and can even mark the beginning of a new chapter in a community. Each mural is important not only to the audience in which they are created for, but also for the artists or organizations behind the scenes. At times there is a struggle for balance between freedom of artistic creation and paid commissions with the rise of street marketing.
Each speaker brings a dynamic point of view of how they curate and execute murals. You'll hear how mobilizing an artistic community can be a catalyst for public service, remembrance, and inspiration for future generations. Murals can positively and negatively affect a community and the blurry line of preservation vs new creation. This session will provide you with a peek behind the scenes of the mural ecosystem in Austin.
Takeaways:
The importance of community engagement when creating a mural for a community
The difficulties that face curators and creators around preservation vs new creation
How muralist create these masterpieces knowing it might only be temporary
How the artistic community is using their craft to speak on important issues in their community
This event is open to everyone, including artists, community organizers, art lovers, place making, etc.
Raasin McIntosh, CEO & Founder, Raasin in the Sun
Raasin became rooted in Austin a little over 20 years ago when she attended the University of Texas. She graduated with her Bachelor of Arts in Communications. A big believer in continuing education, Raasin is currently working on a master's degree in communications through Texas Southern University. She was also selected for the Mural Arts Institute in Philadelphia, Pennsylvania, and is attending the national program to learn more about art and environmental building capacity.
In 2015, McIntosh founded Raasin in the Sun, a non-profit that serves Austin by cultivating resilience through the arts and environmental initiatives. The organization focuses on urban beautification and creative placemaking through murals, clean-ups, community gardens, storytelling, public art activations, vacant lot initiatives, and more. Through previous work and her ongoing with with her non-profit, Raasin has extensive experience in managing, producing, facilitating, and coordinating, mural arts, public arts, creative placemaking, restorations, and community engagement initiatives.
Liz Whitington, Executive Producer, HOPE Campaign
Liz Whitington has been thriving in Austin for more than a decade, and is deeply passionate about Austin's creative community. She founded the SXSW Art Program that focused on bringing installations to Austin at the intersection of art and technology. Since 2012, Liz has also be involved with HOPE Campaign and HOPE Outdoor Gallery to bring more public works of art to Austin, while also supporting the local creative community.
Molly Maroney, Founder & CEO, SprATX
Texas native from a close-knit Irish Catholic family, Molly Sue Maroney has never met a problem she wouldn't try to solve. Armed with insatiable curiosity and keen editor's eye, she strives to see the world through gratitude colored glasses and to leave it better than she found it. The daughter of a lawyer and muralist, she is the epitome of the apple not falling far from the tree.
Since 2013 she has been the backbone or 'mom' of all of Spratx and it's endeavors, working alongside some of the world's most talented thinkers and creatives to facilitate a prosperous and advantageous landscape for the working artist. Her critical thinking skills, adaptability and intention to serve others served at her compass as she sought to foster the creative development of blossoming artists, giving them the tools and resources necessary to become full-time professionals.
When Molly isn't on the grind, you can find her watching old home movies, laughing with family and close friends, listening to great Texas music, learning about a myriad of eccentric topics, admiring the majesty of a sunrise or sunset, or cuddling at home with her loving partner Chris and her beloved son Dylan, the greatest dog that ever lived.
Parking & Transportation:
Street parking available nearby. Free parking is available in the Capitol Visitor Garage between 12th and 13th Street off of Trinity Street. Installation and event will be directly across the street. Be sure to check out our sustainable transportation recommendations. This venue is ADA accessible.
ADW21 Event Information:
The health and safety of our attendees, participants, and greater community is extremely important to us. Please be sure to check out our Health & Safety at ADW21 page for the latest safety updates and policies surrounding in-person events.
You'll be emailed any additional instructions for how to join the event at least 24-hours prior to the event start time. The information will be sent via Eventbrite so please check your spam if you don't see it in your inbox.
Austin Design Week is committed to a harassment-free event experience for everyone. Our Code of Conduct can be found here. We are also committed to creating an inclusive, accessible space. All virtual events will have automated captioning. If you need additional accommodations, please email us at info@austindesignweek.org as soon as possible to let us know.
For the full Austin Design Week schedule, check out austindesignweek.org.