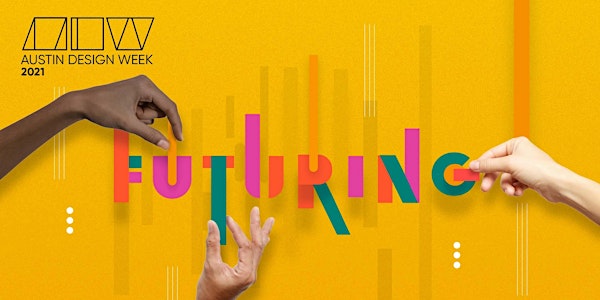 #ADW21: Inclusive Design for the Future of a Sustainable Community
Join us for the sixth annual Austin Design Week!
When and where
Location
Clay Imports 12024 N Lamar Blvd Austin, TX 78753
About this event
Inclusive Design for the Future of a Sustainable Community
Organized by: Clay Imports
Join the diverse Clay Imports team and partners at our North Austin studio and get a hands-on experience of ceramic tile making and product design. Our multi-use, interactive space features various workshop stations to learn about sustainable and inclusive product design. Handmade tile, home goods, and architectural products - Hecho en Mexico and designed in Austin, we aim to collaborate with the design community. Reflect with us on how our purchases can create a collective future for a healthy and sustainable maker and consumer community. We value the handmade craft of creating clay-based and sustainable products and want to share how ethically made products enrich our lives for years to come. Snacks and sips provided by Austin local businesses.
This event is open to interior designers and architects, and really anyone who is interested in a healthy community of makers and consumers.
Nick Barreiro | Co-founder / Seeker & Product Developer, Clay Imports
Nick is the Co-Founder of Clay Imports, an Austin-based company that specializes in the design, production, and, direct to consumer, sales of handcrafted tile, home goods, and architectural products. While developing Clay Imports, and seeking out skilled tile artisans, Nick built strong relations with crafters and manufacturers in Mexico, Morocco, and Turkey. In addition to sourcing materials internationally, Nick worked with U. S. based designers to revise the aesthetics of traditional products, modifying them just enough to appeal to today's consumers. Nick serves on the executive board of Mexic-Arte, the official Mexican American fine arts museum of Texas. Nick's interest in developing relationships between The U.S. and Mexico has led him to chair the Austin-Saltillo Sister Cities Committee, a community-led organization that promotes friendly relations and understanding between the citizens of Austin and citizens around the world. As often as possible, Nick likes to ride his bicycle. He likes taking long trips on his bike, for days, sometimes weeks. Nick has ridden his bicycle across Italy, from the Adriatic Sea to Pisa. He has done cross-country bicycle tours in Mexico, Spain, Turkey, and France. Nick enjoys drinking beer and visiting breweries. Most notably, Nick organized a group brewery tour that consisted of visiting 22 central Texas breweries in 24 hours, drinking one beer at every brewery. Considering the logistical planning, this is Nick's greatest achievement of 2021. Nick's Mayan Zodiac is the deer.
Dr. Kiona | Digital Creator, How Not To Travel Like A Basic Bitch
Kiona, Ph.D., M.S., M.A. is the creator behind several educational programs worldwide. She started out in 2016 with the blog called How Not To Travel Like A Basic Bitch, where she traveled the world spotlighting different cultures, uplifting marginalized voices, and inspiring people to travel mindfully. As an academic, her mission has always been to deliver education through travel in a digestible and accessible way.
Since, she has a spin-off podcast called How Not To Travel Podcast which is also translated into Spanish and hit #1 in 13 different countries.
She also has offline educational programming. She offers monthly trips to Cuba & El Salvador for a "study abroad for adults" trip. The trips are 7 different classes where students take independent studies over a week period and learn directly from professors in each country. Topics covered are issues on human rights, economics, anthropology, healthcare, eco-farming, and sustainable tourism.
While she is an Instagram Influencer with over 100+k followers, she does not work with brands for paid advertisements. She has paired with Clay Imports to create sustainable, limited edition merchandise that benefits local populations as well as Lifestraw that provides access to water via water bottles that have built-in water filters. She creates mindful marketing for both companies.
She is also a corporate speaker for Asian American issues as she's an activist in improving the visibility and struggle for the Asian American, working with companies such as Anheuser-Busch, Shipt, and the Smithsonian Institute.
You can find her book called Tales of Horror & Happiness in Hospitality on Amazon about the ethics of Airbnb and short-term housing and how to work together with local populations to generate additional income.
Her work has gotten her Travel Content Creator of the Year by Audacity Fest and World's Best Influencer by Fodor's Travel. She's also been featured in CNN, Forbes, Outside Magazine, Huffington Post, Washington Post, Pop Sugar, Next Shark, and many more.
Ayse Iyriboz | Product and Interior Designer, Ayse Design
Ayse (I-sha) is a designer who specializes in making beautiful things we can smile at while drinking. She has designed two custom tile lines for Clay Imports with a third on the way. The timeless Geometric Series and vibrant Valladolid Series have become top sellers highlighting her ability to create designs that are both unique and accessible.
On one of their trips to the tile factories in Mexico, Nick was interested in reusing leftover clay to reduce waste. Together they came up with the idea of making tableware. Ayse designed Poco to be the friendliest little tableware you can get. For fabrication they enlisted Roberto Franyutti, to make molds, trouble-shoot glazes, refine the shapes – basically everything that goes into making a functional vessel for both the user and the maker.
She has an intuitive understanding of the designer-producer-maker machine. It probably comes from her cultural background and varied work experiences. Born in Izmir Turkey she was surrounded by the clean white lines of the Aegean stucco and then studied ceramics and sculpture at LSU. She has run a landscaping company, started Been-Bags - a bag company reusing coffee sacks, and renovated multiple houses along the way.
When she is not designing awesome stuff for Clay Imports she is doing interior design and fabrication for commercial spaces including a brewery that's going to be super badass.
Roberto Franyutti | Tile Manufacturer, FT Wall Mosaic Mexico
Roberto Franyutti is the CEO of FT Wall Mosaic. Since 1985, FT Wall Mosaic, a family business, has been manufacturing ceramic and cement tile for private collections and custom projects in the U.S, Mexico, and Europe. Roberto graduated from Tec de Monterrey with a degree in Engineering. FT Wall Mosaic is based in San Miguel de Allende, Guanajuato Mexico. Roberto specializes in efficient and sustainable tile production, applying a variety of recycling processes. Roberto has been recognized in the category of extraordinary artisans as part of 100 Imperdibles México. His work contributes to the proliferation of traditional tile production in Mexico while embracing design thinking and technological innovation. https://www.youtube.com/watch?v=DFzSgXP8fxM
Parking & Transportation:
There is limited on-site parking. Be sure to check out our sustainable transportation recommendations. This venue is ADA accessible.
ADW21 Event Information:
The health and safety of our attendees, participants, and greater community is extremely important to us. Please be sure to check out our Health & Safety at ADW21 page for the latest safety updates and policies surrounding in-person events.
You'll be emailed any additional instructions for how to join the event at least 24-hours prior to the event start time. The information will be sent via Eventbrite so please check your spam if you don't see it in your inbox.
Austin Design Week is committed to a harassment-free event experience for everyone. Our Code of Conduct can be found here. We are also committed to creating an inclusive, accessible space. All virtual events will have automated captioning. If you need additional accommodations, please email us at info@austindesignweek.org as soon as possible to let us know.
For the full Austin Design Week schedule, check out austindesignweek.org.