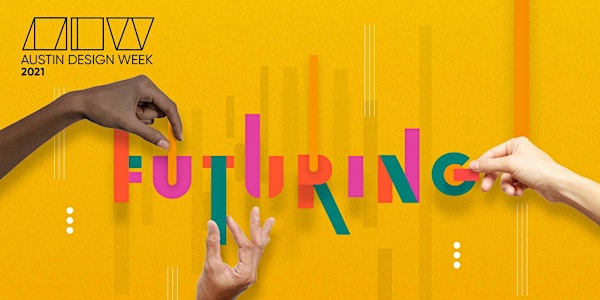 #ADW21: Discovering Physical-Digital Spaces
Join us for the sixth annual Austin Design Week!
About this event
Discovering Physical-Digital Spaces
Augmented Reality. Internet of Things. Robotics. Smart home devices. What these all have in common is physical space.
In a world where "design" in tech has meant creating interfaces for flat screens for the past 40 years, these new spatial technologies represent something dramatically different. For the first time, technology can understand the spaces where we live and work, allowing the physical and digital to merge in ways that were never before possible. Spatial awareness and head-mounted displays also unlock access to users, industries, and spaces that information technology has not traditionally served.
In order to create products and services that fulfill the potential of spatial technologies, designers must recognize the limitations of the standard tools we use to design for screens today, and embrace new approaches to product discovery and validation. In this talk, I share principles that have guided my work with spatial technology companies and created measurable value for emerging technology businesses and their users.
This workshop is open to anyone, including people who work in interaction design.
Llewyn Paine, Ph.D. | Research Principal, Llewyn Paine Consulting, LLC
Founder of Llewyn Paine Consulting, LLC, Llewyn helps emerging technology groups achieve product/market fit through custom research and research coaching. Her work has guided multimillion-dollar decisions by executives at Fortune 500 companies including Microsoft and Disney, and has helped clients launch game-changing products across augmented reality, AI/bot technology, and Internet of Things.
ADW21 Event Information:
The health and safety of our attendees, participants, and greater community is extremely important to us. Please be sure to check out our Health & Safety at ADW21 page for the latest safety updates and policies surrounding in-person events.
You'll be emailed any additional instructions for how to join the event at least 24-hours prior to the event start time. The information will be sent via Eventbrite so please check your spam if you don't see it in your inbox.
Austin Design Week is committed to a harassment-free event experience for everyone. Our Code of Conduct can be found here. We are also committed to creating an inclusive, accessible space. All virtual events will have automated captioning. If you need additional accommodations, please email us at info@austindesignweek.org as soon as possible to let us know.
For the full Austin Design Week schedule, check out austindesignweek.org.