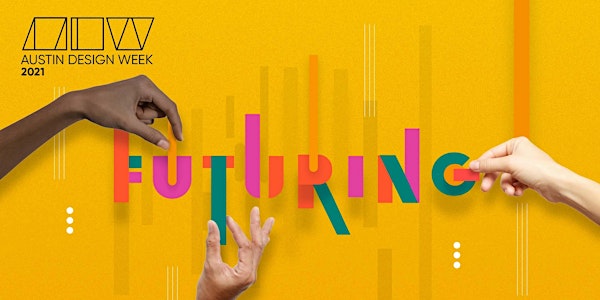 #ADW21: Designing for a Multigenerational Workforce
Join us for the sixth annual Austin Design Week!
When and where
Location
Capital Factory, Omni Austin Hotel Downtown 701 Brazos Devvie Room Austin, TX 78701
About this event
Designing for a Multigenerational Workforce
Most formal diversity, equity, and inclusion programs don't include age diversity as a goal. But the value of multigenerational teams is becoming increasingly clear. A recent AARP survey of 6,000 global employers found that 83% of business leaders say multigenerational workforces are "key to the growth and long-term success of their companies." And, according to an analysis in the journal of the American Psychological Association, managers reported that age diversity positively contributed to organizational performance.
The ability to manage and retain workers of different generations - and to amplify their unique skills by leveraging new interactions and relationships - is critically important in the creative, innovation, and design economies. This interactive workshop teaches you how to maximize your team's impact by fostering cross-generational collaborative partnerships.
This workshop is open to anyone, including team managers and organizational leaders.
Jennifer (Houli) Houlihan | Product Management & Design, Flatiron School/US Army Futures Command
Jennifer (Houli) Houlihan is an educator and freelance designer with expertise in design, research, facilitation, and strategy. Currently, she's the lead instructor for the 14-week Product Management & Design accelerator led by Flatiron School for the Army Software Factory in Austin, Texas.
Raised in Alaska, she has served in creative leadership for more than 30 years, working with non-profit organizations and social impact businesses across the country. An award-winning speaker, Houli has presented and lectured in classrooms and at conferences across the US and Canada. She has published numerous articles on design, civic life, and the future of work, and is an active volunteer in the Austin design, tech, and political communities.
Houli holds an MA in Social Psychology from Pepperdine University and a BS in Communications from Northwestern University. Before joining GA, she served as managing director for the Austin Forum on Technology & Society and for the Austin Smart City Alliance. She is also a seasoned municipal lobbyist and an experienced higher education management consultant who has worked with UCLA, the University of Southern California, the University of Michigan, and Loyola Marymount University, among many others.
In her spare time, she writes, works in her garden, and tries to learn something new every day.
Parking & Transportation:
There is paid street parking available near by. Be sure to check out our sustainable transportation recommendations. This venue is ADA accessible.
ADW21 Event Information:
The health and safety of our attendees, participants, and greater community is extremely important to us. Please be sure to check out our Health & Safety at ADW21 page for the latest safety updates and policies surrounding in-person events.
You'll be emailed any additional instructions for how to join the event at least 24-hours prior to the event start time. The information will be sent via Eventbrite so please check your spam if you don't see it in your inbox.
Austin Design Week is committed to a harassment-free event experience for everyone. Our Code of Conduct can be found here. We are also committed to creating an inclusive, accessible space. All virtual events will have automated captioning. If you need additional accommodations, please email us at info@austindesignweek.org as soon as possible to let us know.
For the full Austin Design Week schedule, check out austindesignweek.org.