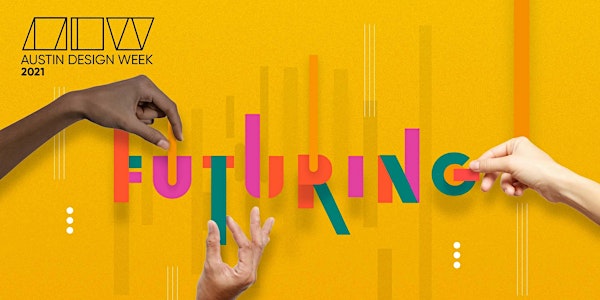 #ADW21: Designing Change Through Creative Empowerment
Join us for the sixth annual Austin Design Week!
About this event
Designing Change Through Creative Empowerment
All people are naturally creative. The harmony of our body, mind and spirit make us each the perfect tool for diverse expression and provides endless opportunity for change. Creativity matters. Every person benefits profoundly from a relationship with it, yet we don't live in a culture that truly empowers everyone to embrace it. We overlook the many opportunities life presents us to exercise our creative power while inviting others into their own. In an inclusive world, all voices are heard. Internet culture has proven that abundant change and healing are possible when people are able to express themselves and be witnessed.
So how can we support ourselves and others in finding a unique voice, creating change and embracing a life imbued with the inspiration required for innovation? Let's discuss how to design a future that shatters the illusion of exclusivity within the world of creativity. Gain tools, perspectives and inspiration to live a more passionate and purposeful life through creative empowerment.
This workshop is open to anyone, including designers and artists interested in personal development. Those seeking to leverage design and art to implement change in their lives and in the world. Those seeking a new perspective or support in relationship to their own creativity.
Fiona Nodar | Creativity Coach & Designer
Hi, my name is Fi! I'm a designer, artist and creativity coach with roots in tech as a design leader. I'm deeply passionate about creative empowerment for all people, and have made it a mission to help others expand to live a more inspired, expressed and fulfilled life.
ADW21 Event Information:
The health and safety of our attendees, participants, and greater community is extremely important to us. Please be sure to check out our Health & Safety at ADW21 page for the latest safety updates and policies surrounding in-person events.
You'll be emailed any additional instructions for how to join the event at least 24-hours prior to the event start time. The information will be sent via Eventbrite so please check your spam if you don't see it in your inbox.
Austin Design Week is committed to a harassment-free event experience for everyone. Our Code of Conduct can be found here. We are also committed to creating an inclusive, accessible space. All virtual events will have automated captioning. If you need additional accommodations, please email us at info@austindesignweek.org as soon as possible to let us know.
For the full Austin Design Week schedule, check out austindesignweek.org.