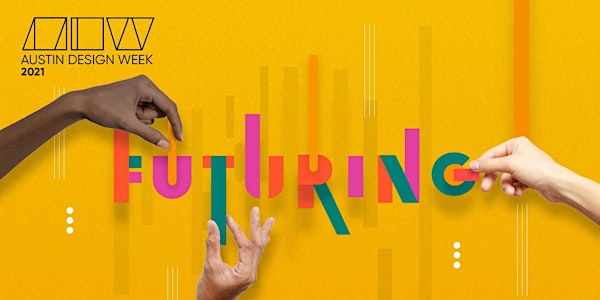 #ADW21: Childhood, Optimized - Designing the Future of Growing Up
Join us for the sixth annual Austin Design Week!
When and where
Location
Capital Factory, Omni Austin Hotel Downtown 701 Brazos Street Captain America Room, 8th floor Austin, TX 78701
About this event
Childhood, Optimized: Designing the Future of Growing Up
Organized by: Object Solutions
In science fiction, we might encounter future technologies—say, a 'smart crib' that teaches baby all the essential skills, from sleeping to personal branding. But those are usually mere ornaments in a larger story.
In design fiction, we envision only the technological artifact—e.g. the smart crib—as a prototype, a blueprint, a sales pitch. Without a plot, there's open space for the viewer to fill in.
This design fiction workshop invites you to become 'laboratorians' that invent the future of parenthood and childhood: How might technology raise the next generation?
Paired with a partner, you're prompted with an everyday challenge of raising a child. Provided with our creative ideation kit, you draw the blueprints for an invention to resolve your problem.
As you ideate, go ahead and twist the knob beyond what's marketable, feasible, or even desirable, today. Explore those deeper questions about our relationships with technology. How far do we outsource? How deep do we integrate? Let's investigate the broadest possible spectrum, to understand where we draw the line.
At the end of your ideation session, we discuss our inventions as a group and reflect on the futures we've envisioned.
Welcome to a world of problems, solved.
This workshop is open to everyone, not just designers or parents. The goal is to invite people to harness their inherent creativity. We invite both the playful and the critical. People interested in science fiction are a great fit, especially those who have a critical eye toward technology, consumer goods, and how our everyday worlds are designed. 'Black Mirror' has popularized the cautionary tale about near-term futures, and this workshop runs in that vein—with a dose of dark humor.
Ernesto Morales | owner and creative director, Studio Malagón
Ernesto D. Morales is a designer and artist based in Austin, with roots in Mexico City. By day, he is the creative director of Studio Malagón, a design agency that cultivates ideas, stories and experiences. By night, he runs Object Solutions, a laboratory of 'design fiction' that explores alternative futures.
Parking & Transportation:
There is paid street parking available near by. Be sure to check out our sustainable transportation recommendations. This venue is ADA accessible.
ADW21 Event Information:
The health and safety of our attendees, participants, and greater community is extremely important to us. Please be sure to check out our Health & Safety at ADW21 page for the latest safety updates and policies surrounding in-person events.
You'll be emailed any additional instructions for how to join the event at least 24-hours prior to the event start time. The information will be sent via Eventbrite so please check your spam if you don't see it in your inbox.
Austin Design Week is committed to a harassment-free event experience for everyone. Our Code of Conduct can be found here. We are also committed to creating an inclusive, accessible space. All virtual events will have automated captioning. If you need additional accommodations, please email us at info@austindesignweek.org as soon as possible to let us know.
For the full Austin Design Week schedule, check out austindesignweek.org.