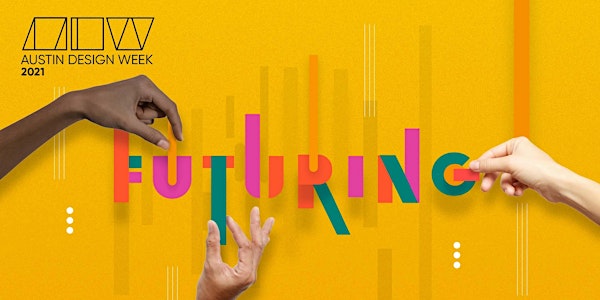 #ADW21: Bringing a 300-Year-Old Folk Weaving Tradition Back to the Future
Join us for the sixth annual Austin Design Week!
When and where
Location
The ADW Hub 301 W. 2nd Street Suite 100 Austin, TX 78701
About this event
The American Coverlet: Bringing a 300-Year-Old Folk Weaving Tradition Back to the Future
When we look at Futuring we also need to look at "Past-ing". In our constant rush for bigger, better, faster, cooler we can sometimes overlook the merits of some of the design traditions which have propelled us to this point – it is important to take stock and return to these time-tested values which can guide us into making sound future design decisions.
During this talk, we will look at a collection of antique coverlets and discuss their existence in two ways: firstly, as beautiful physical examples of an old folk weaving technique (we will talk about their names, histories and significance to our cultural heritage) and secondly as lenses through which to connect their inherent characteristics to important contemporary design themes such as sustainability, design evolution, cultural relevance and social connection. These antique textiles aren't just for Roundtop aficionados and grannies – they are part of our craft history, offering valuable lessons for designing with integrity. As we start futuring like we've never futured before, we are symbiotically past-ing, present-ing and futuring in a continuous, reciprocal loop.
This workshop is open to anyone interested in historical craft techniques and/or textile lovers.
Parking & Transportation:
Located on the backside of City Hall, there is paid parking in the City Hall garage, paid street parking nearby, and of course, public transportation. Be sure to check out our sustainable transportation recommendations. This venue is ADA accessible.
ADW21 Event Information:
The health and safety of our attendees, participants, and greater community is extremely important to us. Please be sure to check out our Health & Safety at ADW21 page for the latest safety updates and policies surrounding in-person events.
You'll be emailed any additional instructions for how to join the event at least 24-hours prior to the event start time. The information will be sent via Eventbrite so please check your spam if you don't see it in your inbox.
Austin Design Week is committed to a harassment-free event experience for everyone. Our Code of Conduct can be found here. We are also committed to creating an inclusive, accessible space. All virtual events will have automated captioning. If you need additional accommodations, please email us at info@austindesignweek.org as soon as possible to let us know.
For the full Austin Design Week schedule, check out austindesignweek.org.