Learn from experts with years of experience working in the special needs community on how to help your children reach their full potential.
About this Event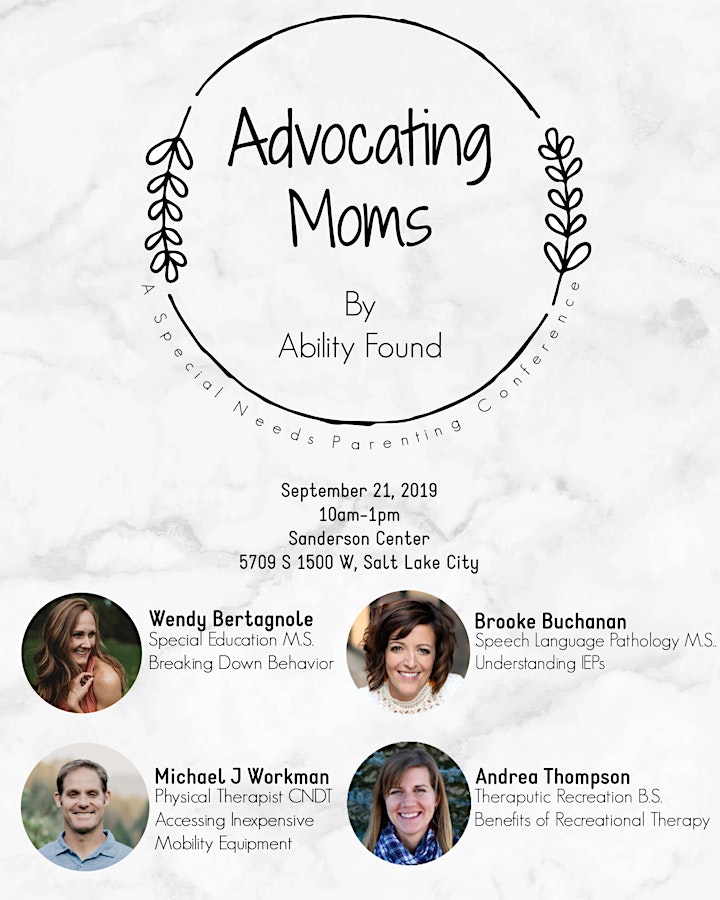 TICKETS PURCHASED AFTER 9/7/19 WILL NOT INCLUDE A SWAG BAG, BUT ARE STILL ELIGIBLE FOR DOOR PRIZES!
I gave birth to a child with special needs five years ago, and those early years were so hard. Why is everything so expensive? Will my child ever be able to play sports? What is an IEP? How do I manage difficult behavior? I felt like I'd been thrown into a complex world that I knew nothing about, without a roadmap to reference for help.
I've spent the last several years navigating this world and wishing everyday that I was able to have this knowledge years ago! It would have saved our family so many struggles and heartache. My mission now is to be able to share these resources with other families, in hopes that they might feel a little less lost, and to help them feel grounded in a community of resources available to them and their families.
Join us September 21, 2019 for the first annual Advocating Moms: A Special Needs Parenting Conference. Come learn how to navigate those challenging behaviors, learn about recreational therapy resources in the state of Utah, how to save money on walkers and wheelchairs, and the ins and outs of IEPs and the special education system. Attendees will also be able to ask the experts pressing questions in a 20 minute Q&A panel.
Michael J Workman: Michael is a licensed physical therapist and runs Ability Found, a local foundation that helps people access low cost mobility equipment that they otherwise wouldn't be able to afford. He also provides home based pediatric physical therapy in the state of Utah through professionaltherapies.com. Michael is also the owner of The Bamboo Brace, a dynamic elbow brace that aids in upper extremity function for children and adults suffering from cerebral palsy, stroke, and other neurological disorders. This conference also would not have happened without Michael trusting my vision, and signing off on it for my college internship. He is one of the most generous people you'll ever meet, and is such a wealth of knowledge for this community.
Wendy Bertagnole: Wendy has a master's degree in special education, is the owner of the Exceptional Parenting Podcast, and facilitates a Sensory Solutions parenting course. Wendy is dedicated to helping people understand the root cause of their child's behavior, and explains sensory differences/sensory processing disorder in such a way that anyone can understand it. Her methods and explanations are so simple and effective that you can immediately start implementing them in your home to help your child.
Brooke Buchanan: Brooke is a licensed speech language pathologist, and also happens to be a special needs parent. Her personality is so warm and inviting that you instantly feel like you have a new best friend. She offers a unique perspective as someone who sets goals in IEP meetings for other people's children, and yet has to advocate for her own child in these meetings as well. She will be speaking on how to navigate IEP meetings and the ins and outs of the special education system.
Andrea Thompson: Andrea is a recreational therapist for the National Ability Center in Park City, Utah. Andrea will be speaking on services the National Ability Center provides (therapeutic horseback riding, adaptive sports, and so much more!), the benefits that recreational therapy can have for your child, and other programs available throughout the state.
There will be booths setup for participants to walk through from The National Ability Center, Ability Found, The Bamboo Brace, and many other local businesses who serve this community.
Attendees will also receive a special conference workbook for note taking and a small swag bag as a token of appreciation.
The workbook will also include contact information for over 100+ special needs resources available in the state of Utah.