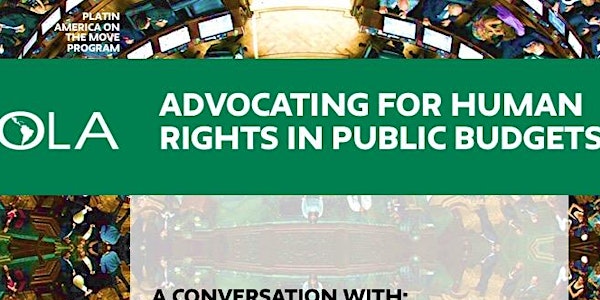 ADVOCATING FOR HUMAN RIGHTS IN PUBLIC BUDGETS
When and where
Location
55 W 13th St 55 West 13th Street Hirshon Suite New York, NY 10011
Description
The Observatory on Latin America (OLA) of the New School
is
pleased to invite you to:
ADVOCATING FOR HUMAN RIGHTS IN PUBLIC
BUDGETS
Public Defender, Judicial Power, City of Buenos Aires

Director Global Governance, Rockefeller Brothers Fund
Public finance is one of the most fundamental elements for the rule of law. A focus on the budget challenges the traditional singular emphasis on taxes. This talk explains the relationship between fundamental rights, public structures and action, and budgetary decisions.
Horacio Guillermo Corti is the current General Defender of the City of Buenos Aires, Argentina. He served as Judge at the Chamber of Appeals in Administrative and Tax Litigation as well as President of the Judicial Council in Buenos Aires. He has also been professor of Public Finance, Tax Law, and French-Argentine Law in Argentina and in France. Corti holds a PhD in Law from Buenos Aires University and is author of a number of books including his latest title on Budgetary Constitutional Law.
Friday, December 2
nd
, 2016
3:30 - 5:30pm

Hirshon Suite | The New School

55 West 13th Street,
2
nd Floor
The event will be in Spanish. No simultaneous translation available.
Admission is free, but seating is limited. Reservations are required.