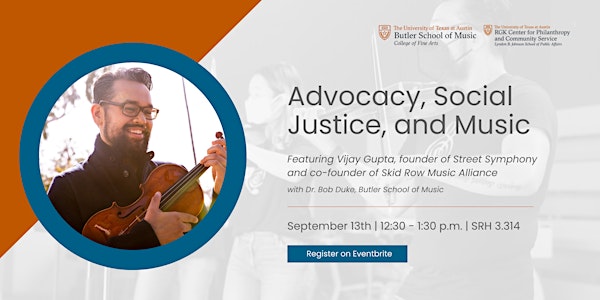 Advocacy, Social Justice, and Music
Dr. Bob Duke chats with musician and nonprofit founder Vijay Gupta about creating community and advocating for others through music.
By RGK Center for Philanthropy and Community Service
Date and time
Tuesday, September 13, 2022 · 12:30 - 1:30pm CDT
Location
LBJ School Of Public Affairs 2315 Red River Street SRH 3.314 Austin, TX 78712
About this event
Join the RGK Center and the Butler School of Music for a lunchtime chat with visiting musician Vijay Gupta, violinist, speaker and citizen-artist dedicated to creating spaces of wholeness through music.
Vijay is the is the founder and Artistic Director of Street Symphony, a community of musicians creating spaces of connection for people in reentry from homelessness, addiction and incarceration in Los Angeles. Vijay is also a co-founder of the Skid Row Arts Alliance, a consortium dedicated to creating art for – and with – the largest homeless community in America. For his work in "bringing beauty, respite, and purpose to those all too often ignored by society", Vijay was the recipient of a 2018 MacArthur Fellowship.
This conversation will be led by Dr. Bob Duke, Head of Music and Human Learning at the Butler School of Music. Together, we will explore Vijay's professional journey and how he uses music and the arts to advocate and provide opportunities for his community. Lunch will be provided for those who register before 5:00 p.m. Friday, September 9th.
About the organizer
For questions about this event, please contact Sydney at sydney.wilburn@austin.utexas.edu.