Advising Clients and Donors on Charitable Gift Planning: A Seminar for Advi...
Description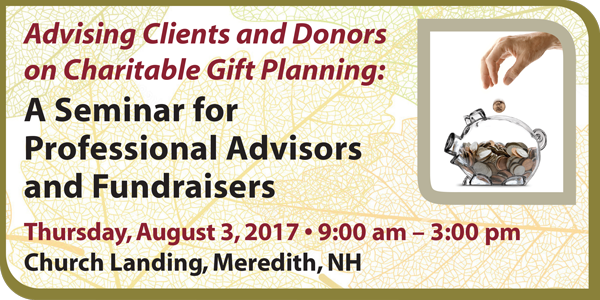 JOIN US for an interactive and interdisciplinary seminar to discuss the changing landscape of charitable gift planning. Learn from expert faculty presenting on timely topics of importance to both professional advisors and nonprofit leaders.

---
PROGRAM
8:30–9:00 AM Check-in/Coffee
9:00–9:45 AM Welcome and Plenary Session:
Charitable Gift Planning in a Changing Environment
Alan Cantor, Alan Cantor Consulting
9:45–10:30 AM General Session:
The Essentials of Building a Successful Planned Giving Program
Theresa Curry, Assistant Vice President of Gift Planning & ADministration, UNH Foundation
10:45–11:30 AM WORKSHOP BREAKOUTS I
A. The Role of Fiduciaries in Assisting Nonprofits:
Partnering with a Corporate Trustee – Role of a Corporate Trustee, CGA v. CRTs and requirements of the Uniform Prudent Management of Institutional Funds Act (UPMIFA)
Bank of New Hampshire:
Arlene C. Folsom, CTFA, SVP and Fiduciary Officer
Robert Magan, CFA, SVP and Investment Officer
Frank Anderson, SVP and Private Banking Officer
Office of NH Attorney General:
Terry Knowles, Assistant Director of Charitable Trusts
B. The Impact of Donor Advised Funds (DAFs) on Charitable Giving
Alan Cantor, Alan Cantor Consulting
11:30–12:15 PM WORKSHOP BREAKOUTS II
A. How to Pop the Question: Making the Ask with your Clients and Donors
Brian Winslow, CFRE, Executive Director Philanthropy, LRGHealthcare
Scott Beane, CPA, Dana S. Beane & Co., PA
B. Special Needs Trust Planning and Medicaid Eligibility
Janelle Laylagian, Esq., NH
DHHS Estate Recovery Unit
12:15–1:15 PM NETWORKING LUNCHEON
1:15–2:15 PM General Session:
Avoiding Landmines: Donor Intent and Advising Your Client
Brian Winslow, CFRE, Executive Director Philanthropy, LRGHealthcare
Scott Sullivan, Wealth Advisor, Partner, Bay Point Financial
Donna Depoian, JD, Normandin, Cheney & O'Neil, PLLC
2:15–3:00 PM General Session:
Developing Investment Policy Statements for Nonprofits – Core Components, Spending Policies,
Capital Market Assumptions and Optional Considerations.
Bank of New Hampshire:
Dona Murray, VP Investment Officer
Robert Magan, CFA, SVP and Investment Officer
3:00 PM ADJOURN

---
PROFESSIONAL ACCREDITATION

This seminar is designed to meet the continuing professional accreditation standards for professionals. The 5 hour program schedule (based on a 60 min/credit hour) includes one hour on ethics and professionalism topics. Participants will be provided with resource materials on the topics addressed.
REGISTRATION INFORMATION
Sponsored by a group of Lakes Region nonprofits to promote charitable giving to strengthen our communities, this seminar is offered at a reduced tuition of $45 (includes refreshments, lunch and resource materials.) Pre-registration is appreciated.

WHO SHOULD ATTEND?
Attorneys
Certified Public Accountants
Financial Planners and Investment Advisors
Trust Officers
Insurance Professionals
Nonprofit Leaders and Board Members and Development Professionals
For additional information visit feel free to contact the Presenting Nonprofits:
Joanne Piper Lang, Lakes Region Community Services
603-581-1588 joanne.lang@lrcs.org
Brian Winslow, LRGHealthcare
603-527-2820 bwinslow@lrgh.org
Ann Nichols, Genesis Behavioral Health
603-524-1100 X445 anichols@genesisbh.org
Leslie T. Ari, Central NH VNA & Hospice
603-524-8444 lari@centralvna.org