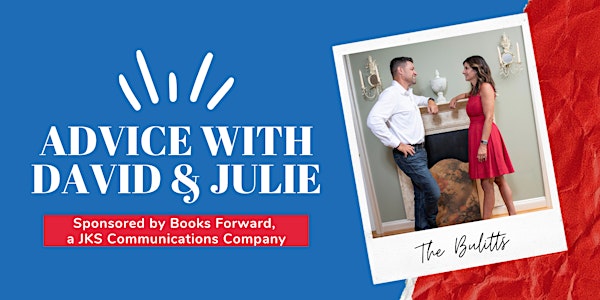 Advice with David and Julie Bulitt
Event Information
Location
Private home in Green Hills Nashville, address to be shared with RSVP
To be shared with RSVP
Nashville, TN 37215
Come hear husband and divorce attorney David and wife and family therapist Julie Bulitt hash out what it takes to be married.
About this event
6:30 p.m. to 8 p.m., Friday, March 20, 2020
Come by for drinks and expert advice from couple and authors David and Julie Bulitt about how to develop effective communication, a long-term financial plan, cooperative parenting, satisfying sex, and work-life balance. The Bulitts cover all this and more in their new book, The Five Core Conversations for Couples: Expert Advice.
Please RSVP by March 15, 2020.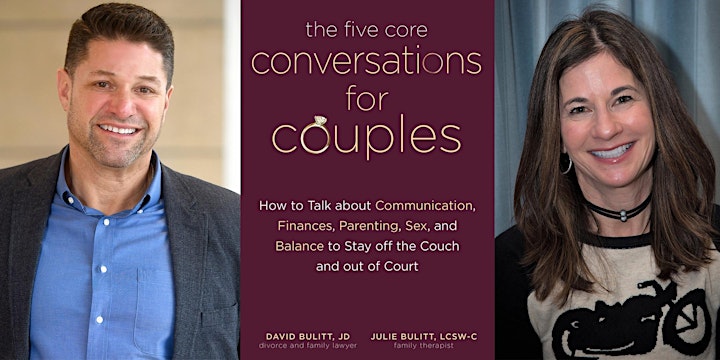 More about The Five Core Conversations for Couples: Expert Advice:
Many of us have heard about the five love languages, but is there a realistic alternative for the messy and serious conversations that arise in every relationship? Enter David and Julie Bulitt.
Who better to serve as an example than a successful couple of 33 years that has navigated some of life's toughest pitfalls? Between David's work as an accomplished divorce attorney and Julie's perspective from her 25+ years as a therapist, the Bulitts have had these sincere conversations, and found healing in them.
What they've learned about saving a marriage could fill a book — and it does. The 5 Core Conversations for Couples tackles every corner of relationships with the wisdom, knowledge, and best advice culled from David and Julie's unique experiences. Drawn from notes of their discussions, chats and arguments — not always sober — and filled with frank, funny stories, it tackles the basics with openness and honesty. From getting along to parenting, communication, and sex, it also covers hard-to-discuss issues like addiction, infertility, pornography, and family silence.
Peek inside one of the most unique and articulate examples of modern marriage today. What happens when a top divorce lawyer and a family therapist close the door and really talk?

Books Forward, a JKS Communications Company, is sponsoring this event.
Date and time
Location
Private home in Green Hills Nashville, address to be shared with RSVP
To be shared with RSVP
Nashville, TN 37215