Description
Advertising's Next Frontier: Reaching Audiences in an Ad-free World
The media landscape has changed. Over the past few months, both FOX and NBCU have announced plans to decrease ad loads. YouTube plans to extend its ad-free subscription model from video into music.Amazon Prime recently announced that it had 100 million Amazon Prime subscribers globally and Netflix will invest $8b in orginal content during 2018. While traditional advertising still plays an important role for marketers, ad-free platforms are unquestionably on the rise.
It isn't simply viewership trends that are changing, it's audience behavior and preferences. eMarketer projects that 3 in 10 U.S. internet users will utilize use an ad blocker this year. Meanwhile, 64% of consumers prefer streaming or premium cable over traditional broadcast TV. 65% of these enlightened audiences say it is due to the lack of commercials. Marketers face a dilemma: people are consuming more content than ever before, but are harder than ever to reach. The answer is clear. brands need to get inside the entertainment.
During this invite-only event, brought to you by Branded Entertainment Network, executives and top talent in the media and entertainment industry will discuss their experiences and innovative strategies for reaching audiences in today's fragmented media landscape and the measurement practices behind it.
The event will kick-off with a fireside chat honing in on brand integration measurement challenges and solutions with Lance Lohman, VP Research, Media Analytics, Nielsen moderated by Greg Isaacs, Chief Product & Marketing Officer, Branded Entertainment Network (BEN).
Following the chat, we'll dive into a broader panel discussion lead by Doug Zanger, Senior Editor, Creative at Adweek along with:
Nathan Tan, Associate Director, Brand Partnerships & Experiences at Cadillac, General Motors

Michelle Anderson, Senior Specialist, Brand Marketing & Partnerships, Zillow

G. Mac Brown, Producer of The Departed, Billions and St. Vincent

Lou Fusaro, Producer of Californication, Ray Donovan and House of Lies

Will Park, Director Brand Integration, Branded Entertainment Network (BEN)
Attendees will walk away with a deeper understanding of new measurement solutions for brand integration campaigns, alternative strategies for creating authentic consumer experiences outside of traditional TV commercials and first-hand producer and brand perspectives on brand integrations.
RSVP in advance for this invite-only event. Space is limited.
Please arrive early to enjoy drinks and hors d'oeuvres while you network with industry movers and shakers. Discussions run from 6:00-7:30pm.
#BeTheEntertainment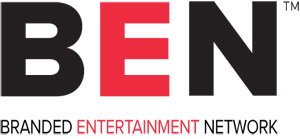 We're excited to welcome the Advertising Club of New York as our exclusive organization partner for this event. The Advertising Club of New York is a non-profit organization for corporate and individual members in the advertising, media, marketing and ad tech industries providing education and networking opportunities to enhance professional development.