Description
This is your opportunity to list your business or organization in the official guide for The Land Rover Muddy Chef Challenge. The Field Guide is a high quality glossy publication filled with event information, maps, directions to event locations, and a wide variety of technical, lifestyle and off-road articles.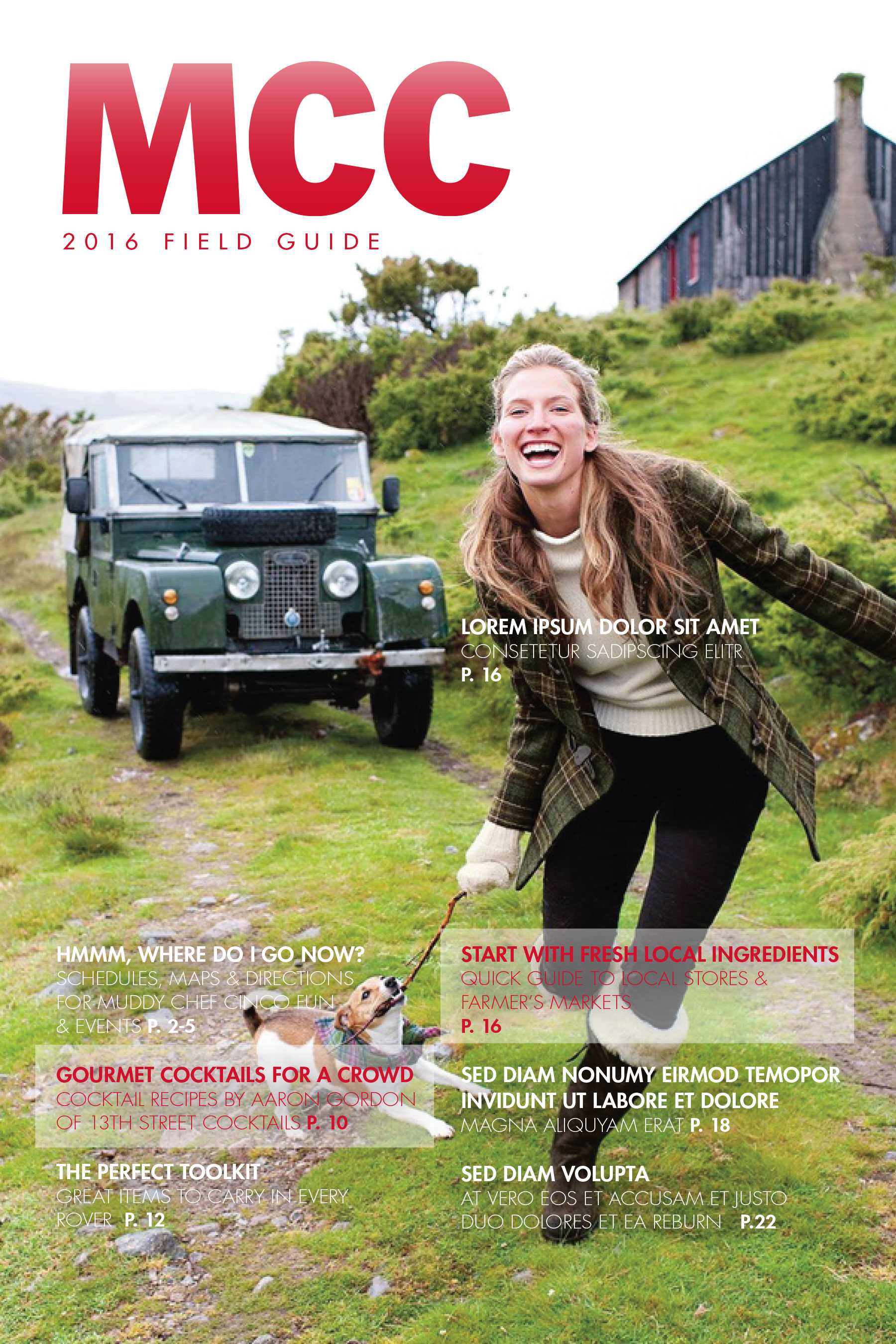 PROGRAM ADVERTISING OPPORTUNTITIES
We are now accepting reservations for ads in our 2016 Field Guide. Our Guide is printed in full color throughout the 8-1/2 x 11 book, on 100# glossy paper.


ADVERTISING DEADLINES
Advertising Reservation Form and Payment....July 1, 2016
Camera-ready ad artwork......July 6, 2016
You may submit either a black-and-white ad or a Full Color ad. There is no up-charge for color ads.
Ad Specifications
Please send digital art (PDF, JPEG, etc.)
@ 300 dpi or more per Art Specification Instructions included in advertising packet.
Color ads should be submitted as a CMYK pdf, not RGB. Black & White ads should be submitted as a grayscale pdf.

If you need help to create your camera-ready ad, please e-mail info@muddychef.com
We can put you in touch with our design and creative firm – GS Promo Source, LLC.
Ad Sizes & Rates
Center Spread* | $1,000
Full Page | $500 | 7.5" wide x 10" tall
Half Page | $250 | 7.5" wide x 4.5" tall
Quarter Page | $150 | 3.5" wide x 4.5" tall
Banner Ad | $100 | 7.5" wide x 2" tall
Business Card | $50 | 3.5" wide x 2" tall
Send Artwork via Email:
The Muddy Chef Challenge
Attn: Eric Yohe
Email: info@muddychef.com - Subject line: "MCC Field Guide"

Questions about artwork?
Call (802) 324-8989.
---
DIGITAL FILE SUBMISSION SPECIFICATIONS
The 2016 Land Rover Muddy Chef Challenge FIELD GUIDE
Camera-ready Ad Deadline: July 6, 2016


AD SIZES (width by height)

INSIDE PAGES: Full Color
Center Spread: 17" (w) x 11" (t) plus 1/8" bleed on all 4 sides (Safety area: 16.25" x 10.25")

Full Page Ad: 7.5"(w) x 10"(h) No bleeds
Half Page Ad: 7.5"(w) x 4.5"(h) No bleeds


Quarter Page Ad: 3.5"(w) x 4.5" (h) No bleeds


Banner Ad: 7.5" (w) x 2" (h) No bleeds



Business Card: 3.5" (w) x 2" (h) No bleeds

COVERS: Full bleed color (available for Sponsor ads only; inside front & back covers; back cover)
Trim size 8.5"(w) x11"(h)


Bleeds 8.75"(w)x11.25"(h)


Live area: 7.5"(w) x 10"(h) Please keep all text and important graphics within this area


PREFERRED APPLICATIONS:
Adobe Acrobat PDFs: press ready, fonts embedded
Adobe InDesign, Illustrator, Photoshop CS5 or later


UNACCEPTABLE APPLICATIONS:
Microsoft Word (as a design file with photos/art embedded)
Publisher
Corel Draw
Macromedia Freehand
Multi-Ad Creator
Word Perfect
PowerPoint
Excel

IMAGE USAGE FORMAT
Accepted: EPS, TIFF or JPG (Native AI & PS files). NO LZW.
Unacceptable: PICT, CT, DCS, RIFF, OPI, GIF, BMP, PCX, PNG, TARGA, IFF, PIXAR, WPX
Resolution: Gray Scale and Full Color (CMYK) Minimum 300 DPI at 100%
FONTS
Convert all fonts to outline before making your PDF file
ADDITIONAL INFORMATION
Film or images from websites are not accepted. Digital photos: Use the largest setting, turn off date and time.


PLEASE CONTACT US WITH ANY PRODUCTION QUESTIONS.
Eric Yohe - Muddy Chef Events
email: info@muddychef.com Tel: 802-324-8989