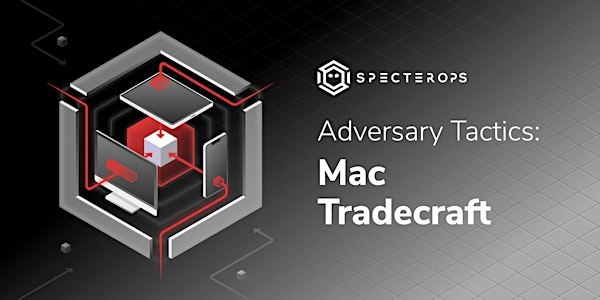 Adversary Tactics - Mac Tradecraft Training Course - SO-CON 2021 (GMT-7)
Online Event - This course will take place online, using virtual software to stream live instructors during the scheduled delivery hours.
Refund Policy
Refunds up to 7 days before event
Eventbrite's fee is nonrefundable.
About this event
Online Event
This course will take place online, using virtual software to stream live instructors during the scheduled delivery hours of 8:00AM to 4:00PM PDT (UTC -7) / 11:00AM to 7:00PM EDT (UTC-4). Confirmed attendees will receive logistics information one week prior to the event.
-----------------------------------------------------------------------------
Red team operators enjoyed robust community and commercial tooling to simulate advanced adversary tradecraft in traditional enterprise environments. As organizations have increasingly moved to hybrid, or non-Windows, environments our red team community knowledge has not kept pace. This course focuses on bridging that gap, highlighting the latest macOS security enhancements, and arming red teamers with the foundational knowledge to operate against macOS endpoints. The objective is to deep dive into the concepts behind techniques to enable operational flexibility and prepare for future macOS enhancements, rather than simply training with specific available tooling.
Course Summary
While Windows is the main operating system in many enterprise environments, more companies are taking a hybrid approach to allow employees a choice of Mac or Windows, or forgoing Windows environments entirely. Regardless of the base operating system, the core tactics and tenant of adversary capability is the same - given enough time and resources, adversaries will find a way to achieve their objectives. Apple's approach to addressing the adversary problem is to force all non-Apple execution to user land and introduce new security enhancements for each version of macOS that bring the macOS and iOS operating systems closer together. When it comes to emulating tactics, techniques, and procedures (TTPs) on macOS, more time and emphasis must be placed on subverting Apple's custom controls such as Gatekeeper, Application Notarization, Entitlements, TCC, and the System Integrity Protection rather than bypassing EDR products.
The Adversary Tactics: Mac Tradecraft course drops you into a modern macOS hybrid environment which mimics what SpecterOps operators encounter in real world red team exercises. Students will focus on macOS payloads for initial access, crafting custom techniques on the fly via JXA and Objective C, identifying persistence and privilege escalation opportunities, stealing credentials, and avoiding common EDR detections via XPC services and native APIs. The course aims to teach students about the consequences of their actions and the details behind their techniques rather than just how to run common tooling.
Course Syllabus
Day 1:
Introduction & Course Overview
Lab and course range infrastructure
macOS Introduction
macOS Security
C2 Frameworks & Mythic Overview
JavaScript for Automation
Initial Access & Payload Development
Situational Awareness
Day 2:
Active Directory & Kerberos
Persistence
Entitlements, TCC, & System Integrity Protection
Privilege Escalation
Credential Access
Evasion
Student Requirements
This course is not for beginners and includes a team-based, on-keyboard execution of complex red team tradecraft against macOS endpoints. Participants should be comfortable with penetration testing concepts and tools, Active Directory, and macOS internals.
Hardware Requirements
Internet Connection
8GBs of RAM
Modern Web Browser capable of rendering HTML5
Accommodations
Training will be taking place virtually.
FAQs
How can I contact the organizer with any questions?
Please email info@specterops.io with any questions.  
What's the refund policy?
Full refunds will be provided up to 7 days before the course start date.