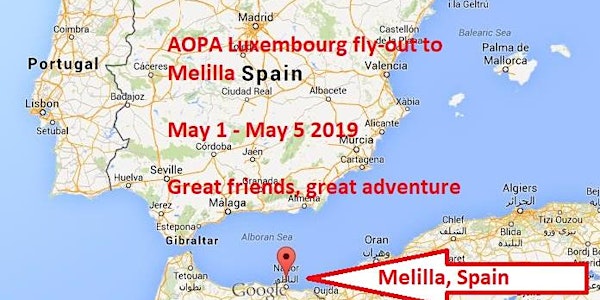 Adventurous self flying adventure to Melilla, Spain
When and where
Location
Luxembourg general aviation entrance Rue de Neudorf 1110 Findel Luxembourg
Refund Policy
Refunds up to 30 days before event
Description
UPL-AOPA Luxembourg asbl (The Luxembourg Airplane owners and Pilot's association) organizes a non-commercial fly-out to the most remote borders of the Schengen area, being Melilla in Spain from Wednesday May 1st till Sunday May 5th
This unique destination fly-out to the most southern borders of Europe is actively supported by Aviasport and Aéro-Sport, Luxembourg's leading flying associations.
As Melilla can only accommodate a small number of planes, we had to limit the size of the group.
We'll provide details on hotel accommodation once the registrations are closed (whereby we benefit of group reservations)
Total : 2000 NM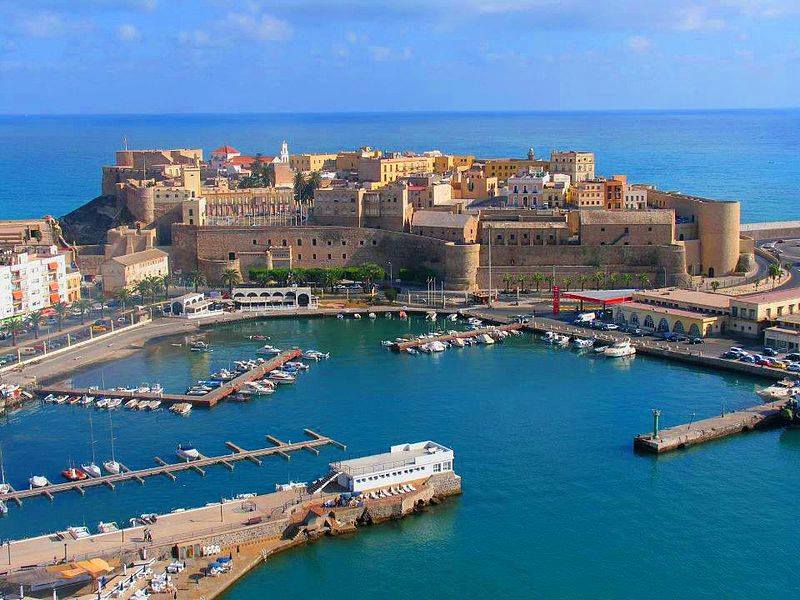 Program:
Wednesday May 1st (public holiday)
Early morning departure in Luxembourg to Beziers (LFMU), with overnight stay nearby the airfield in Béziers.
May 2nd

flight Beziers to Melilla (GEML) with a refueling stop in Almeria
welcoming by aero-club Melilla at 5pm
Dinner and harbour party
Top floor hotel (Paradores) with stunning views
May 3rd:

no flying today, Melilla tourism discovery
Welcoming by local authorities & press moment: handover of the Schengen wine !
Guided tour of the beautiful colonial style buildings Melilla and the border area (looks like checkpoint Charly in Berlin in the 80's)
Farewell evening dinner with dance and music
Saturday May 4th:
Flight Melilla via Sierra Nevada to Perpignan (LFMP)
We have pre-booked multiple rooms at the Campagnile Urban in the center of Perpignan
Sunday May 5th:
Flying back to Luxembourg
Debriefing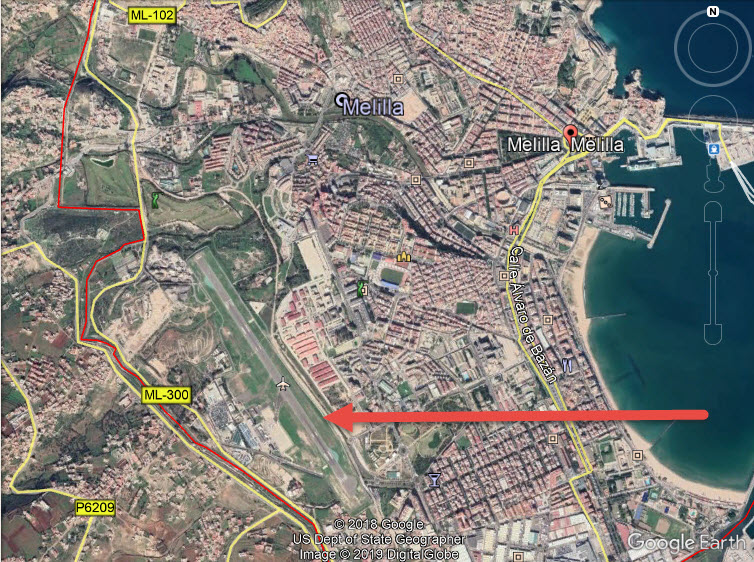 Great friends, great adventure !
Organisation team
Peter Sodermans, organiser & coordination
Franky Coene, logistics Melilla
Jesus Damián Rosado Lopez, logistcs Melilla (Jesus is the President of the Aeroclub of Melilla)
Maciej Krych, navigation
and the whole UPL-AOPA Luxembourg board who supports this new event
Questions ? Please email info@upl-aopa.lu
Wikipedia says:
"Melilla is Spanish autonomous city located on the north coast of Africa, sharing a border with Morocco, with an area of 12.3 km2 (4.7 sq mi). Melilla is one of two permanently inhabited Spanish cities in mainland Africa, the other being Ceuta. It was part of the Province of Malaga until 14 March 1995, when the city's Statute of Autonomy was passed.
Melilla, like Ceuta, was a free port before Spain joined the European Union
In 2011 it had a population of 78,476, made up of Catholics of Iberian origin (primarily from Andalusia and Catalonia), ethnic Riffian Berbers and a small number of Sephardic Jews and Sindhi Hindus. Spanish and Riffian-Berber are the two most widely spoken languages, with Spanish as the only official language.
Melilla has their own and well equipped modern airport of 1.428 meters lenght, The airport does not handle large jets, but following the extension of the runway, the airlines serving the airport also use medium size jets airplanes."
We developed the contact with the airport management and with the aeroclub of Melilla, who are happy to welcome us. The airport is located within the city of Melilla.
This fortfied city has a special atmosphere, it looks a bit like West Berlin in the 80's with checkpoint Charly included. Yes, Ceuta and Melilla are integral parts of Spain. Thus, they are also part of the Schengen Area. The Schengen acquis fully applies to these cities. Entering or exiting Ceuta is entering or exiting the Schengen Area.
But…
There are internal border checks when traveling from/to these cities to/from mainland Spain and/or the Schengen States.
We checked Melilla ou last November 2018, even overnight and it is absolutely safe. Their cuisine is absolutely delicious and in Melilla, they know how to enjoy life at a slow pace. Everyone we met had time...the modern luxury
This is a unique opportunity to discover this unique place in Europe, which is for more than 500 years Spanish territory.
FAQs
How can I contact the organizer with any questions?
please email info@upl-aopa.lu
What's the refund policy?
30 Days before the event starts, meaning April 1, 2019
What about the hotels ?
We have booked some rooms in France for May 1 and May 4 and a topp hill hotel in Melilla for May 2-3. Always a group rates between 70 and 100 € a night. There might be a deposit to pay, details to be announced.
Status March 3th, 2019
All tickets were sold within only a couple of days. We're fully booked. However, we opened a waiting list for which you can register now. We'll contact you as places become available again. Let's cross fingers