Description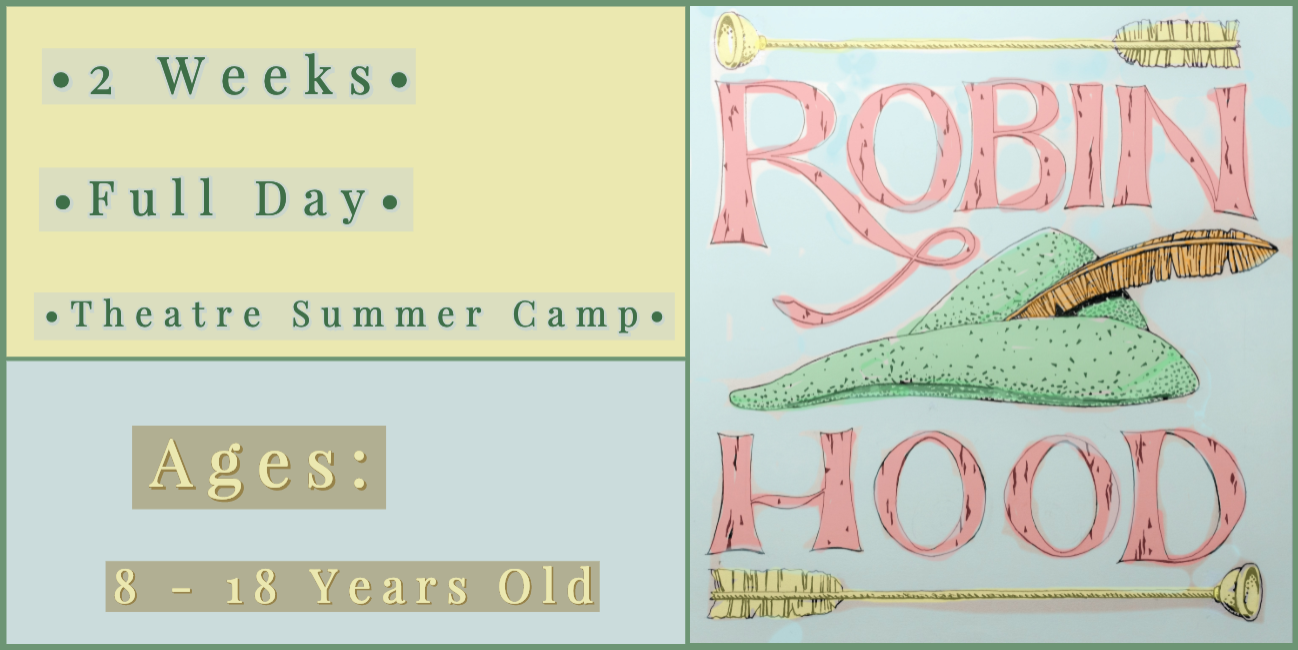 ---
About The Camp:
The Adventures In Theatre, Robin Hood Summer Camp Experience, is designed to involve young actors in all aspects of theatre production.
Working with local professional directors, music directors, choreographers, costumers; and scenic artists the campers will learn basic theatre skills, how to audition, stage movement and character development.
After two weeks of theatre games, workshops, a few dance classes and some serious rehearsing, campers will be ready to show their hard work with a complete production including sets, costumes, lights and props on the Castle McCulloch Stage. (ages 8- 18)
About The Play:
Robin Hood is the most courageous and misunderstood outlaw in literature. We know that he stole from the rich and gave to the poor and was the best archer in the land.
But did you know that he was also an excellent singer and dancer? Robin is forced into hiding by the Evil Prince John and "not-such-a-nice-guy" the Sheriff of Rottingham.
In Sherwood Forest he is joined by a group of colorful characters. There is Little John, Friar Tuck, Will, Scarlet, the lovely Maid Maryann, Lady Ginger and the Ladies who-are-tired-of-waiting, Gilligan, the Skipper, and the rest.
This comic adaptation of the classic tales follows the adventures of Robin Hood, his Merry Men, Merry Women, and Medieval Merry Maids on many merry adventures. Complete with archery, revenge, the quest for justice and a lip synching contest this play has something for all.
Robin Hood Tuition:
The Cost For Robin Hood is $350 Per Camper For The 2 Week Summer Camp. With This, You'll Receive Two Complimentary Tickets To See A Performance Of Robin Hood! Each child must be registered separately.
Early Registration Special: Only $300 per
camper if you register and pay before May 15th!
Robin Hood Camp Dates & Times:
The 2019 Robin Hood Summer Camp Will Begin July 8th And Run Through July 19th. The 2019 Robin Hood Summer Camp Will Start At 9:30am And Run Through 3:30pm, Monday Through Friday.
Robin Hood Performances:
Performance Tickets Will Be Available Online Soon
Friday July 19th At 7:00 pm
Saturday July 20th At 2:00pm
All Camp Questions Should Be Directed To: The Camp Director, Bobby Bodford (336) 971-3973