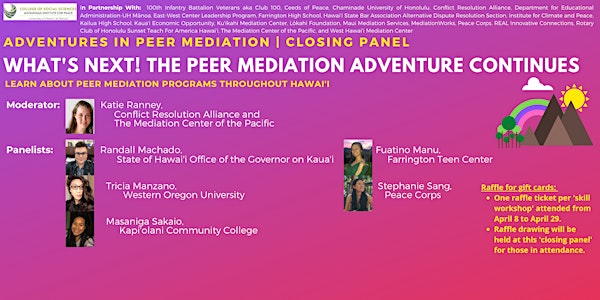 Adventures in Peer Mediation | What's Next! | Closing Panel
Adventures in Peer Mediation | April 7 - April 30
About this event
The Peer Mediation Conference has been bringing together youth peer mediators (ages 8 to 18 years old) for over thirty years. This is the first year the conference has gone virtual to connect peer mediators around Hawai'i and others aspiring to develop their own peer mediation program. The events are free and open to everyone who wants to learn more about peer mediation. We encourage youth and adults that work with youth to attend.
Terminology
Peer mediation is problem solving by youth with youth. It is a process by which two or more students involved in a dispute meet in a private, safe and confidential setting to work out problems with the assistance of a trained student mediator.
A mediator is a person who mediates—helps to settle a dispute or create agreement when there is conflict between two or more people or groups by acting as an intermediary or go-between for those parties. The act or process of mediating is called mediation.
Mediation is an alternative dispute resolution process wherein a neutral third party, the mediator, facilitates a discussion between the parties to promote the voluntary resolution of disputes.
Adventures in Peer Mediation | April 7 - April 30
34th Annual Peer Mediation Conference
"What's Next! The Peer Mediation Adventure Continues"| Closing Panel
Learn about peer mediation programs throughout Hawai'i
The Session:
Join us to celebrate the conclusion of the Peer Mediation Conference with alumni peer mediators who will discuss how their training contributed to their current personal lives and in their professional careers. A raffle will be held for those in attendance. Raffle tickets can be obtained by attending a skills workshop from April 8 to April 29.
Moderator:
Katie Ranney, Conflict Resolution Alliance and The Mediation Center of the Pacific
Panelists:
Randall Machado, State of Hawai'i Office of the Governor on Kaua'i
Fuatino Manu, Farrington Teen Center
Tricia Manzano, Western Oregon University
Masaniga Sakaio, Kapi'olani Community College
Stephanie Sang, Peace Corps
Raffle for Gift Cards:
One raffle ticket per 'skill workshop' attended from April 8 to April 29.
Raffle drawing will be held at the 'closing panel' on April 30 for those in attendance.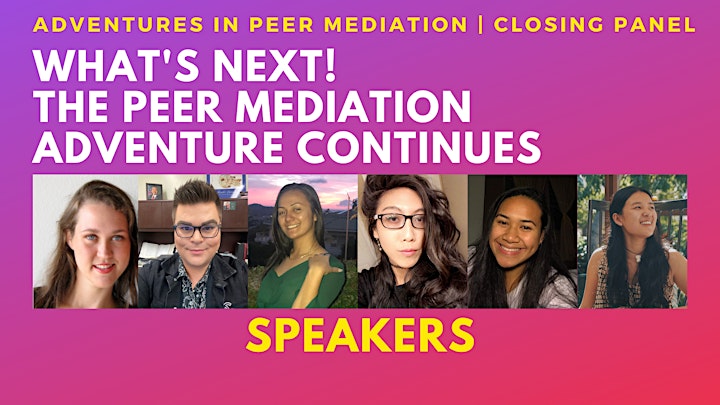 About Katie Ranney
Katie Ranney is a peacebuilder, facilitator, and conflict resolver, who is currently working as the Special Programs Coordinator of the Mediation Center of the Pacific. She is responsible for conducting outreach and training as well as program creation and management. As an independent facilitator and communication consultant for the last 13 years, Katie has worked mostly with nonprofits and government agencies to create substantial plans to strengthen and advance their endeavors. She graduated summa cum laude from Santa Clara University and earned her Master's in Communication from UH Manoa, with a Graduate Certificate in Conflict Resolution. She is interested in the development and practice of empathy as well as how digital communication helps groups connect and organize, and hopes to apply it to her work at home in Hawai'i.
About Randall Machado
Randall was in peer mediation throughout his time at Kaua'i High School where he graduated as a valedictorian in 2008. He continued his education at the University of Southern California (USC) where he studied Philosophy and Political Science, earning a Bachelor's Degree in 2012. Combining his interests in politics, effective communication and psychology to better the community, Randall now works with the State of Hawai'i Office of the Governor on Kaua'i as a Constituent Services Specialist.
About Fuatino Manu
Fuatino Manu is a Farrington alumni. She earned my Associates degree in Human Services from Western Nebraska Community College and furthered her education at the University of Central Missouri where she earned a Bachelor's degree in Social Work. Fuatino is currently a social worker at Farrington High School's Teen Center. She became a peer mediator as a freshman and had conducted multiple mediations on campus throughout her high school career and was even given the opportunity to train her fellow classmates on how to become a peer mediator. Becoming a peer mediator allowed her to feel safe and connected to the campus and her peers and build connections with a diverse group of people. It has also allowed her to assess and understand all points of views to help her peers determine a solution and she has been fortunate to use her mediation skills at her last employment with at risk youth on multiple school campuses on Oahu.
About Tricia Manzano
Tricia Manzano background in peer mediation was in her senior year at Farrington High School were the social workers Ms. Gwen and Ms. Alison were the mentors that introduced her to the program. Tricia is currently a senior in college at Western Oregon University taking classes remotely online during this pandemic and working as a hostess at a restaurant in Kaka'ako.
About Masaniga Sakaio
Masaniga Sakaio is an alumna of Farrington High School where she peer mediated for three years. She is currently a first year student at Kapiʻolani Community College working on getting into the medical assistance program
About Stephanie Sang
Stephanie Sang first encountered and trained as a peer mediator in Florida's Dover Shores Elementary School. Those skills continually helped her to navigate the different spaces she entered whether it was a middle school classroom with AmeriCorps' City Year or as a TEFL instructor in Madagascar. Currently, she is the Peace Corps recruiter at UH Mānoa.
In Partnership With:
100th Infantry Battalion Veterans aka Club 100
Ceeds of Peace
Chaminade University of Honolulu
Conflict Resolution Alliance
Department for Educational Administration-UH Mānoa
East-West Center Leadership Program
Farrington High School
Hawai'i State Bar Association Alternative Dispute Resolution Section
Institute for Climate and Peace
Kailua High School
Kaua'i Economic Opportunity
Ku'ikahi Mediation Center
Lōkahi Foundation
Maui Mediation Services
MediationWorks
Peace Corps
REAL Innovative Connections
Rotary Club of Honolulu Sunset
Teach For America Hawai'i
The Mediation Center of the Pacific
West Hawai'i Mediation Center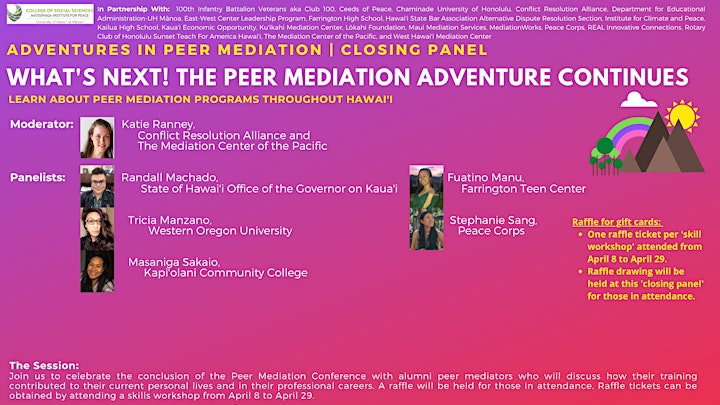 APRIL 8 - APRIL 29 | 16 SKILL WORKSHOPS
Raffle for gift cards: one raffle ticket per 'skill workshop' attended. Raffle drawing will be held at the 'closing panel' for those in attendance.
APRIL 30 | CLOSING PANEL
Raffles will be held at the closing for those in attendance. We will have gift cards in $25 and $50 increments to be raffled for Amazon, Mana Up, Red Lobster, Starbucks, and many more. Over $500 worth of gift cards to be raffled up. Be sure to attend the skills workshops to obtain one digital raffle ticket per skills workshop attended.