Sales Have Ended
Ticket sales have ended
You have completed your reservation! I hope you are feeling excited to travel with me! I can't wait to see you on the trip. Keep an eye out in your inbox for additional information I will be sending about the trip. If you have any questions email me at n.foreste@nomadnikky.com Thank You
Sales Have Ended
Ticket sales have ended
You have completed your reservation! I hope you are feeling excited to travel with me! I can't wait to see you on the trip. Keep an eye out in your inbox for additional information I will be sending about the trip. If you have any questions email me at n.foreste@nomadnikky.com Thank You
Description
New Year New You!
Every year do you make the same old resolution... "I'll join the gym" I'll loose weight, I'll get fit! if any of these sound like you, then ditch the gym membership and kickstart the new year by joining us for fun and fitness in sunny beautiful Costa Rica. I have only 14 spots left for this trip so make one of them yours.
When: Thursday January 11th 2018- Monday January 15th 2018
Why should I come?
Great question!
Firstly Costa Rica is a beautiful tropical destination that you need to visit at least once in your life. It has the best beaches in the world and is also known for it rugged terrain and Bio-diversity.

Christmas is over and you will be feeling guilty for eating wayyyy too much. Yep been there done that. You probably want to try something different and push yourself outside of your usual comfort zone.. I see you nodding your head. What we have planned, will have you giving yourself a high 5.

Meet cool new people! Who doesn't want to mix and mingle with fun interesting individuals who are traveling for the same reasons you are.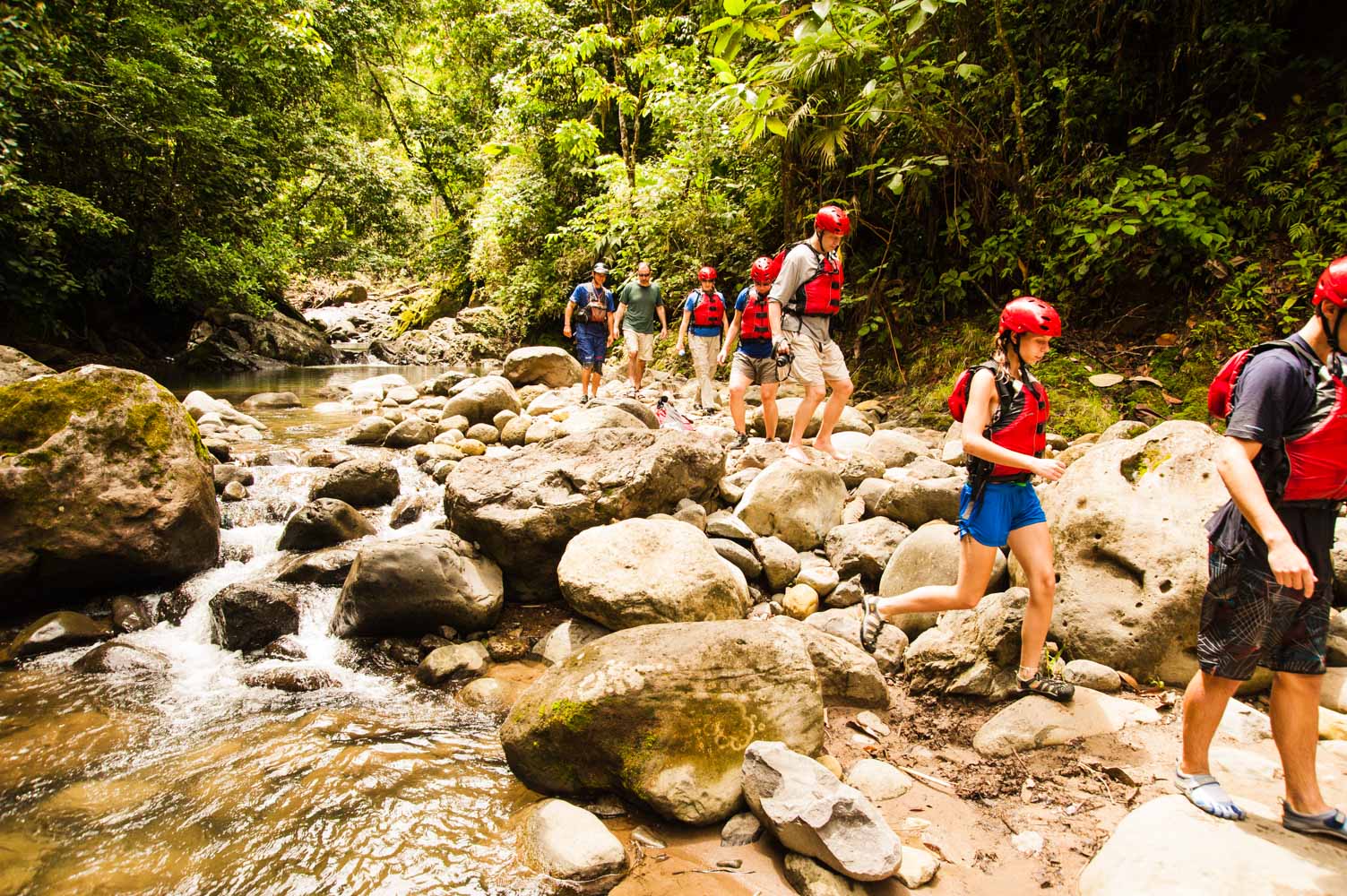 You got me interested, so what will we be doing?
Now we can get to the good stuff!
Day 1: Arrival In Costa Rica
Arrive at San Jose International airport (SJO) before 2pm where you will greet the rest of the travel group. Once on board our private shuttle you can chill, sleep, talk to your fellow passengers or take in the local scenery as we are transported to our hotel in Manuel Antonio.
Freshen up, and get to familarize yourself with your surroundings. The hotel is conveniently located minutes from the beach, or you can take a quick dip in the pool before joining the group for your first Costa Rican dinner.
After dinner, if you are not too tired, enjoy music and dancing with the locals before preparing for the next day's adventure.
Day 2: Saddle up
Start your morning with breakfast and get ready to saddle up. We will take a short ride to our rainforest destination, to greet the horses. Take an exciting horseback ride through the rainforest, discover wildlife, learn about the biodiversity and take amazing shots for instagram. As the ride concludes, revel in the opportunity to launch yourself into the clear cool waters of a secluded rainforest waterfall and natural springs pool. After a rejuvenating swim enjoy an authentic lunch on a self sustain ecofarm.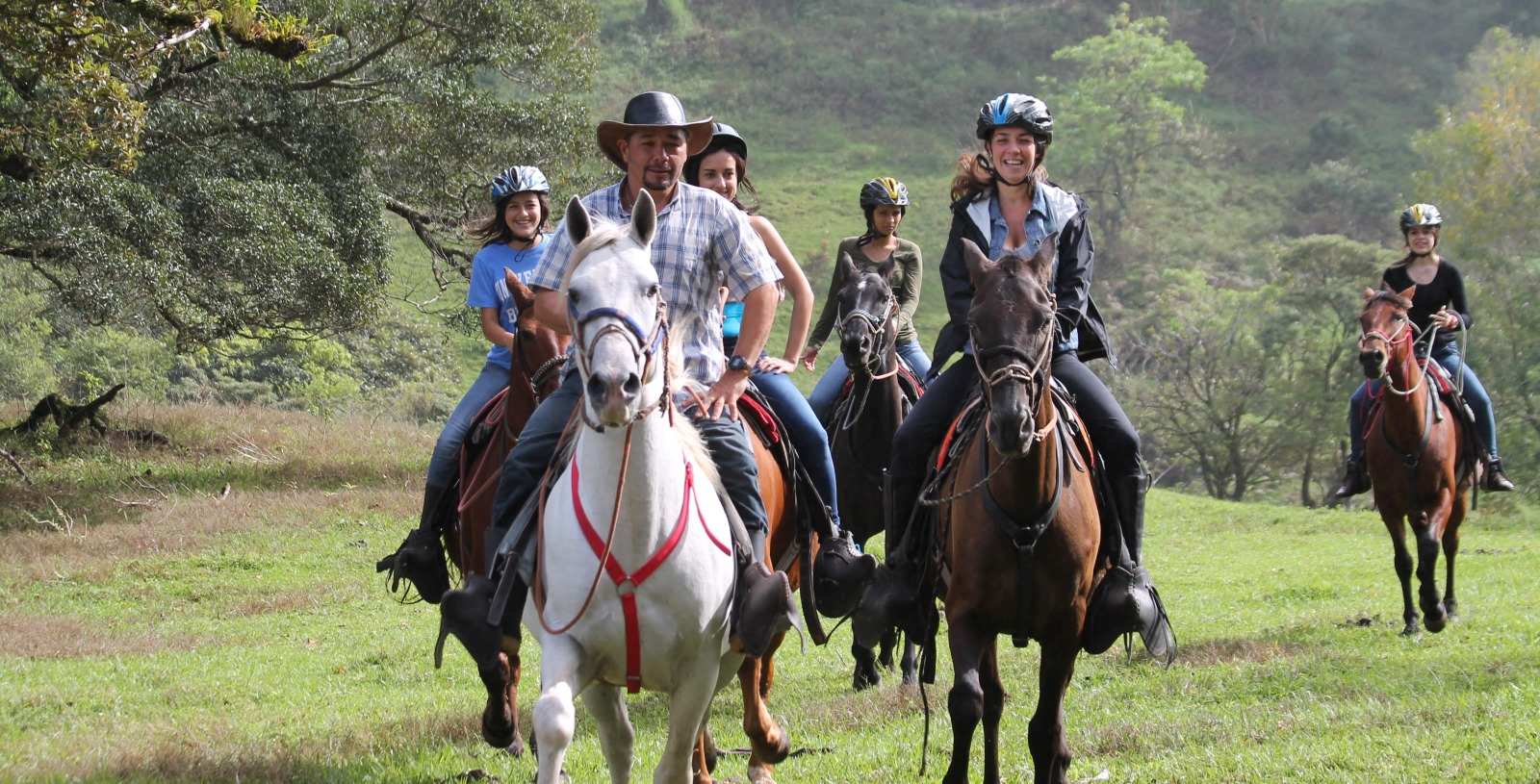 Day 3: Hike the Jungle
Bend and stretch those muscle and oh don't forget your hiking boots and bug spray. Starting early in the morning we will set out for a day of exploration, laughter and thrills. This unforgettable tour through the rainforest will have you scaling up through canyons, ziplining through the canopy, rapelling down waterfalls and swinging like Tarzan. If you want to challenge yourself this is the day to do it.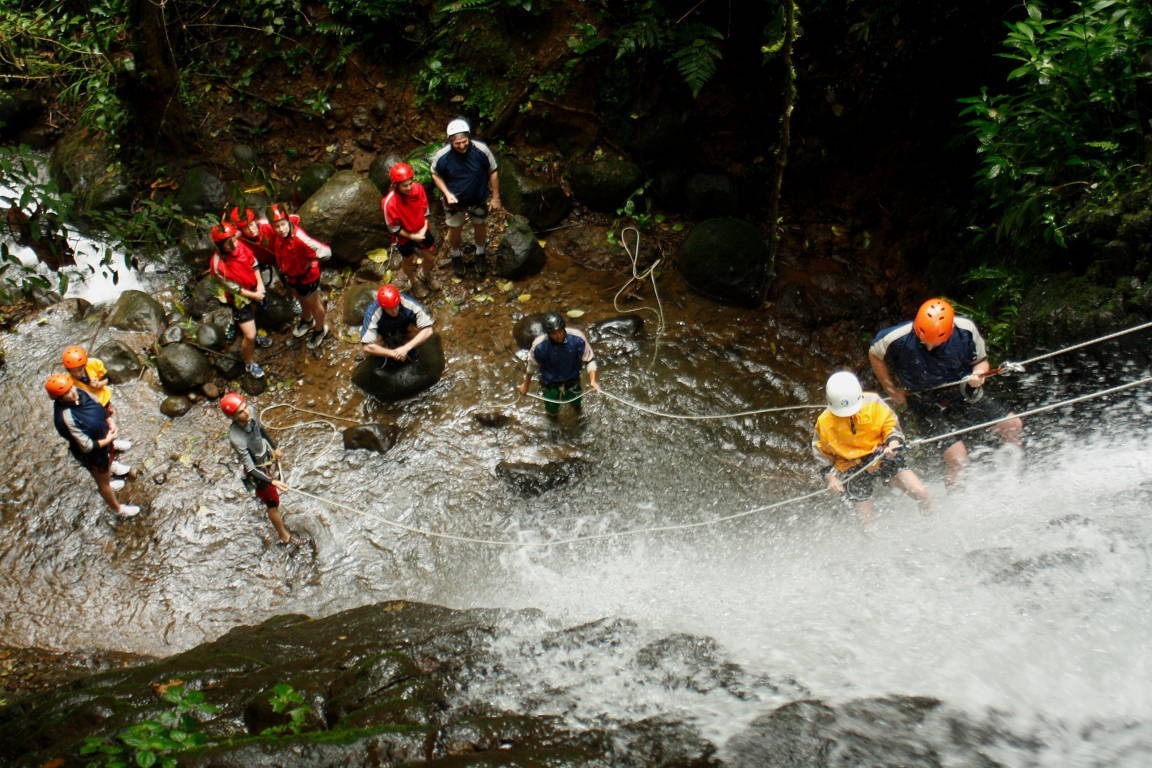 Day 4: Explore, Beach, Culture
Hope you are not feeling too sore after playing in the jungle! Well today you get to have it your way. Sleep in or start your day early and join us for a morning meditation on the the beach. Playa Espadilla just minutes from the hotel is rated one of the top 15 beaches in the world by Trip advisor. Depending on what you desire you can explore the national park only next door to our hotel. Keep an eye out for sloths, monkeys, tree frogs and many more exotic animals. Relax the day away in a good book on the beach or immerse yourself in the local culture at the nearby town of Quepos.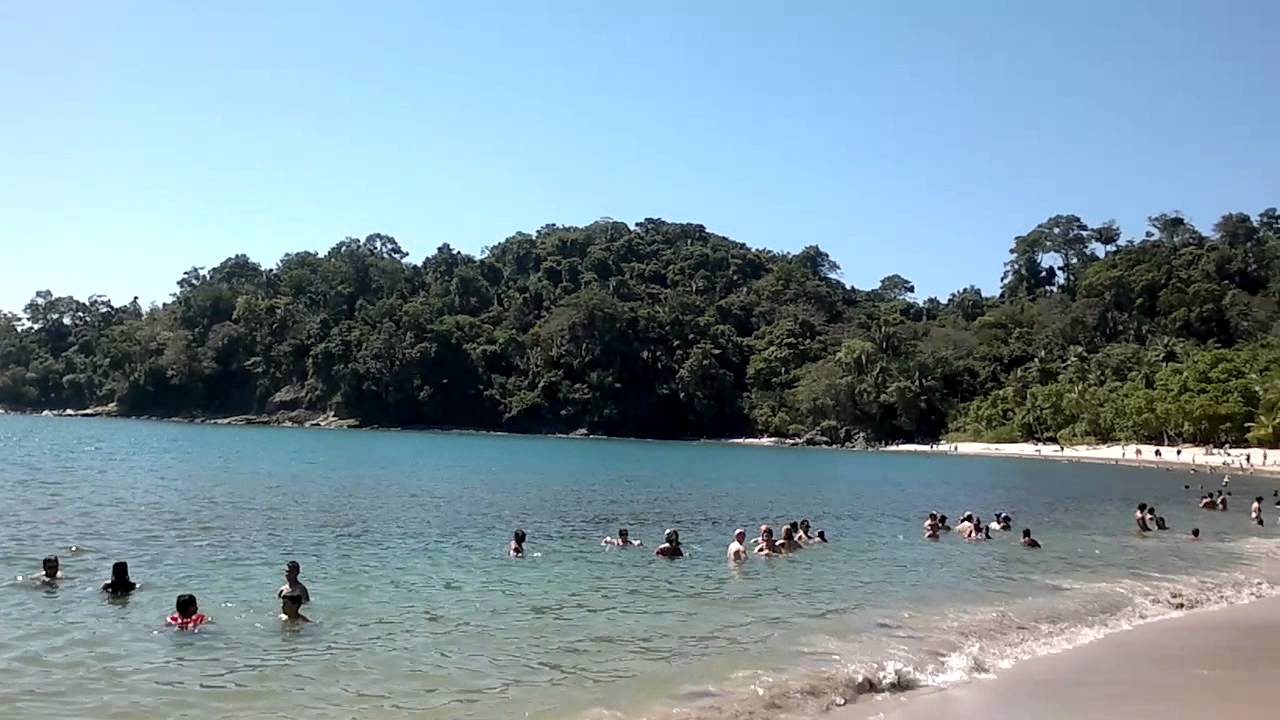 Day 5: Departure
As the adventures conclude and you get ready to go home, enjoy your final Costa Rican breakfast and take a few moments to soak in the fresh warm sea air. Say goodbye to new friends who will become lasting connections and board the shuttle to head back to the airport.
Remind me what's included in the price?
5 Days/4 Nights Hotel accomodation room based on double occupancy

x4 Breakfast & x4 Dinner

Private shuttle transportation to and from the airport

Scheduled activities and local guide with safety equipment

Dedicated group experience manager (G.E.M)

An opportunity to meet fantastic new people
What type of people will be coming?
Our travel group size is small around 10-16 people and consists of young professionals from a diverse backgrounds. We don't discriminate on age and simply attract individuals who share a love of travel, adventure and culture. The activities we do sometimes require a degree of physical fitness, so decide carefully if you can safely perform the scheduled activities.
How much does this cost?
$200.00 secures your place on this not to be missed trip. Available on a payment schedule, you can pay monthly until your trip is paid in full.
Payment schedule:
Initial non refundable $200 deposit
September 15th 2017- $225.00
October 15th 2017- $225.00
November 15th 2017 - $225.00
December 15th 2017 - $225.00
Total cost of the trip is $1100.00
What else do I need to know
Flights are not included in the cost of the trip. You need to make your own flight arrangements to San Jose International airport (SJO) arriving by 2pm
You will be invoiced for your additional payments, failure to make 2 payments will result in the withdrawl of your place on the trip.
All other information and trip details will be sent to you once your reservation is confirmed
The trip is for both male and female travelers
Rooms are based on double occupancy
Trip price is per person
If you have any other questions you can email them to nicole@nomadnikky.com where I can assist you further.
HOPE TO SEE YOU IN COSTA RICA