Sales Have Ended
Ticket sales have ended
Thanks for your interest in the #AdventureMN Film Fest. See you at the show!
Sales Have Ended
Ticket sales have ended
Thanks for your interest in the #AdventureMN Film Fest. See you at the show!
About this Event
FILMS AND PRESENTATIONS
North Shore – Spirit of Ultra by Prana Lens (4 min) – Q&A: Filmmaker in attendance
With over 75,000 feet of elevation change, unpredictable weather, and endless wilderness, Minnesota's North Shore is a treasured terrain for ultra runners of all kinds, but especially those who seek to reunite with the wild. This film reminds us what we're made of and what we're made for. We're wired for the wilderness and we're wired to overcome challenge; to continually come home to the powerful nature within.
Zumbro Endurance Run 2018 by Fresh Tracks Media (11 min) – Q&A: John Storkamp from Rocksteady Running in attendance
When you line up for a race, you are toeing the line of adventure and uncertainty. For these brave souls, the elements had a mind of their own on that unforgettable day in April during the Zumbro races, presented by Rocksteady Running.
Waterway Jay by Adventure MN Films (7 min) – Q&A: Filmmaker and Waterway Jay in attendance
In 2017, Jay Gustafson launched Paddle for Progress, a two-year, 4,300-mile personal journey in response to Governor Dayton's call for water action. Follow the story of one man's journey to save water and remind us how we are connected to it all.
Crossing Superior on SUP by Corey Adkins (18 min)
Crossing Lake Superior follows a riveting 60-mile journey three men took with their paddle boards across a lake that is often a force to be reckoned with.
Superior Surf by Prana Lens (4 min) – Q&A: Filmmaker in attendance
Science + spirit join forces with bone-chilling adventure. On one level, Superior Surf is about surfing on Lake Superior, but beyond that it's about leaning into the expansive rhythms/flow of nature and of our own lives — even when it's terrifying, uncomfortable, and risky. A wave is not just a wave.
Challenge Us, We Dare You by Heart of the Lakes (20 min)  – Q&A: Filmmaker in attendance
Before, women in the outdoors sounded like a gimmick – but they are far from that - they are a force to be reckoned with. From around Michigan, a group of women shares how they set out on a path and found adventure. Their reasons and activities may vary but they all have these things in common; they are strong, they are in this together, and they will not back down.
Lure of the North by Jonathan Chapman (12 min)  – Q&A: Filmmaker in attendance
Lure of the North profiles Blake and Jennifer Freking, a musher family from Finland, Minnesota who care for 60+ purebred Siberian Huskies. With over 20 years of working with the breed, they have each competed in long distance dog sled races such as Iditarod, Yukon Quest, and John Beargrease Sled Dog Marathon. The film explores the challenges of living and raising a family off-grid in the snowiest region of Minnesota and captures the Frekings' devotion to the sport, spirit of adventure, and commitment to the well being of their huskies.
Touching the Sun by Mike Riemer (7 min)  – Q&A: Featured artist and filmmaker in attendance
Filmed on beautiful Northern Minnesota trout lakes, two friends share how their love of mountain biking, fly fishing, and the outdoors are brought together in perfect harmony with the Salsa Blackborow fat bike.
FEATURED ARTIST
Photography by Hansi Johnson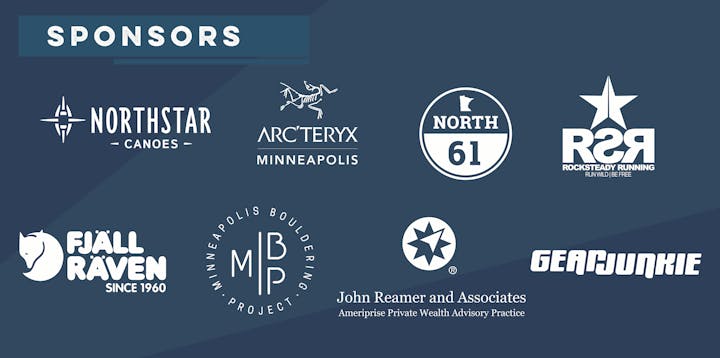 IGNITE YOUR PASSIONS
Our mission is to ignite passions and advocate for outdoor adventure lifestyles among the wild landscapes of the midwest and beyond. We aim to screen films that will inspire, unite and energize our inner wild selves.
Films will focus on adventurers and athletes in fierce pursuit of their sport or passion. We are also interested in films that encourage us to jump out of our comfort zones, explore what's in our own backyard and discover new worlds.
​SURROUND YOURSELF WITH GREAT PEOPLE
We strongly believe in the power of community, and we look forward to connecting with you – the filmmakers and adventure community living in and around the midwest. One the best parts of film festivals is introducing the creatives behind the films with the audience that loves to watch them.
Come! Join us for a brew and a bit of inspiration. We'll clink our glasses in cheers, watch some great films and celebrate all the midwest has to offer.