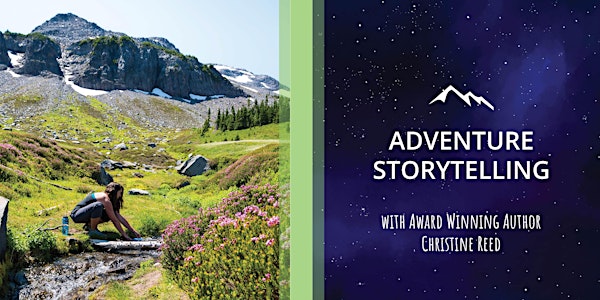 Adventure Storytelling
Learn techniques to write compelling stories, capture your audiences attention and connect through the written word.
About this event
Adventure Storytelling
with author Christine Reed - Lady Unicorn
Christine Reed, award-winning author of the thru-hiking memoir, Alone in Wonderland, shares why adventure storytelling is such a powerful vehicle for connection and the basics for telling a story that inspires and connects. Use these techniques to share your adventures in a short story, a blog, captions for social media, or even to write your own memoir.
What You Can Expect to Take Away From This Class:
Learn why storytelling is such a powerful tool for connecting with others
Learn how to bring your story to life by combining your internal and outdoors experiences
Discussion on storytelling length and format and how to choose the best fit for your story
Christine Reed is an author, speaker, and thru-hiker. She shares her personal journey from sedentary office worker to rugged outdoorswoman in hopes of inspiring others to see something bigger for themselves-- whatever that may be. But also to remind us that a good story is about sharing something of ourselves and connecting with others. She's found in the outdoor community the first place that ever felt like home.
Her memoir, Alone in Wonderland, follows her thru-hike of the Wonderland Trail around Mt Rainier. But it's also a story about the search for independence through solo backpacking and the mixture of empowerment, confidence, and loneliness that she found along the way. Alone in Wonderland has been called raw, vulnerable, inspiring, and painfully relatable by readers of all ages and genders. It has been awarded the National Indie Excellence Award in the Nonfiction Category and received Honorable Mention from the Foreword Indie Awards in the Adventure, Sports, & Recreation Category.