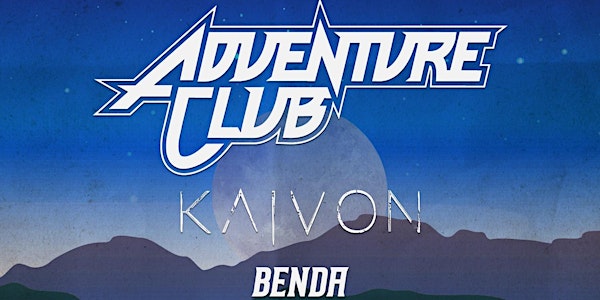 Adventure Club @ The Alameda County Fairgrounds Drive-In
Join us for an evening of socially-distanced EDM at the Alameda County Fairgrounds featuring Adventure Club, KAIVON & Benda!
When and where
Location
Alameda County Fairgrounds 4501 Pleasanton Avenue Pleasanton, CA 94566
Performers
Headliners
More Performers
About this event
Vital Events is pleased to announce a new partnership with the Alameda County Fairgrounds to add electronic music events to their existing drive-in concert series! Please join us for an evening of electronic music featuring Adventure Club, KAIVON & Benda!
This is a safety-first event. All County Orders will be strictly enforced. Masks covering the nose and mouth must be worn at all times when not eating or drinking. Social distancing mandatory while outside your vehicle, including while in line for the restroom or concessions. Event staff and county sheriffs will be actively monitoring to ensure all attendees are following federal, state, and local guidelines for proper COVID-19 safety precautions. Any attendees found acting in an unsafe manner will be ejected from the event, along with all other passengers in their vehicle. No refunds will be given for anyone removed from the event for unsafe behavior.
Enjoy a unique concert experience from the comfort of your car including:
• full lighting and video production
• in-car audio via FM radio
• food trucks (subject to availability)
• drive-thru bar and restaurant with digital pre-orders for contactless pickup
• sanitized and monitored restroom facilities
• double-sided projector screen for an intimate experience
• enjoy the show within your designated space
• all cars distanced every other space from each other for safety
All passengers must have their own ticket. Minimum two passengers per car, maximum six. All passengers must be in a belted seat. All cars subject to search upon arrival. No vans, fifth wheels, trailers, or vehicles with more than two axles allowed. One vehicle pass per vehicle required.
Bring a copy of your receipt on mobile device or printed.
NO uber/lyft drop offs will be allowed. Everyone must arrive in a vehicle with a parking permit and ticket.
Listen along on radio station 97.1FM (subject to change). As this is a drive-in concert you will be enjoying it through your vehicle FM radio. Please make sure that you have a functional FM radio in your vehicle or bring a portable radio before attending.
No large external speakers or subwoofers. If your car has a custom or enhanced audio system, we request that you please limit your volume to a reasonable level as to not disturb our neighbors.
There will be no trash cans, whatever you bring to the event with you must go home with you.
Large vehicles (over 70 inches tall) will be asked to park in the back so everyone can enjoy the show.
No recreational vehicles (e.g., Motor homes, Fifth Wheels, Trailers). No motorcycles, bikes or convertibles.
Each vehicle must fit within its assigned parking spot.
Headlights must be turned off. Vehicles should be restarted regularly to keep your battery strong; manual breaks should be on to stop automatic lights coming when cars are restarted.
Back hatches may not be open above your vehicle's roof line.
No sitting on your car roof.
No sitting in empty parking spots. All attendees MUST stay within their assigned spaces unless using the restroom or other facilities.
NO DOGS or pets allowed unless it is a certified service dog.
The County Order does not allow convertibles or Jeeps with their tops or doors off at any time.
Complimentary jump-starts available for any vehicle experiencing battery issues. Please call 925-872-6812 for assistance.
No assigned parking. Cars will be queued normally into aisles and spaces by our professional parking staff to ensure physical distancing. Once you are parked in your spot, you must not move your car. For health and safety reasons we ask everyone to please cooperate and not change spots. Please respect the instructions of our parking attendants, we are not able to take special requests.
For the safety of our customers, we do not allow firearms, weapons of any kind, drugs (including marijuana) or alcoholic beverages. All vehicles are subject to search. All garbage must stay inside the vehicle, we are not able to provide trash bags per the current Alameda County Health Order.
Each vehicle needs at least one 21+ passenger for entry.
ADA parking spots are available near the restroom. You must have a valid handicap sticker or license plate, please let the parking staff know when you check in at the movie lot.
You may sit in your parking spot, do not park in the empty spots between cars. Face masks must be worn by anyone who exits their vehicle at all times. No BBQing.
For more information on the venue please visit alamedacountyfair.com