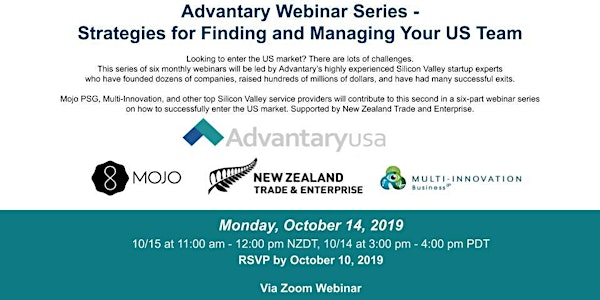 Advantary Webinar Series - Strategies for Finding and Managing Your US Team
Description
Looking to enter the US market? There are lots of challenges. This series of seven monthly webinars will be led by Advantary's highly experienced Silicon Valley startup experts who have founded dozens of companies, raised hundreds of millions of dollars, and have had many successful exits. Mojo PSG, Multi-Innovation, and other top Silicon Valley service providers will contribute to this first of a seven-part webinar series on how to successfully enter the US market. Supported by New Zealand Trade and Enterprise.
Through this series outlined below you will learn the essential factors for a successful US market entry, learn the critical risk factors and how to mitigate them, and meet some of Silicon Valley's best service providers to accelerate success. Each interactive Zoom webinar will focus on the specific topic listed below. To learn more about the series and to register for additional webinars please visit https://www.webinars.advantary.co/
Attend either in-person or via webinar. https://zoom.us/j/828218953.
Strategies for Finding and Managing Your US Team - The talent market in Silicon Valley and other key markets are extremely competitive - that means expensive. And US labor laws are far more complex than you might expect. Here's how to navigate these tricky waters.
This webinar is Tuesday, October 15th at 11:00 am NZST. Corresponding times in additional time zones are listed below for your reference:
Auckland (New Zealand - Auckland), Tuesday, October 15, 2019 at 11:00:00 am NZDT

Sydney (Australia - New South Wales, Tuesday, October 15, 2019 at 9:00:00 am AEDT

Perth (Australia - Western Australia), Tuesday, October 15, 2019 at 6:00:00 am AWST

New York (USA - New York), Monday, October 14, 2019 at 6:00:00 pm EDT

San Francisco (USA - California), Monday, October 14, 2019 at 3:00:00 pm, PDT
We hope you will join us!
Advantary is a full-service Management Accelerator™. For companies expanding internationally into the US, Advantary is the perfect partner to speed market entry, drive success, reduce cost, and mitigate risk. We're experienced Silicon Valley entrepreneurs who have started dozens of companies, raised hundreds of millions of equity capital, and had numerous exits with returns for our investors. Advantary provides advisory and interim CxO services across the entire C-Suite, including CEO, COO, CTO, CMO, CSO, CRO, and CPO. We augment your management team long-term or short-term, full-time or fractional, giving you the on-demand expertise when you need it. We are stage-agnostic, helping companies from pre-revenues to public.