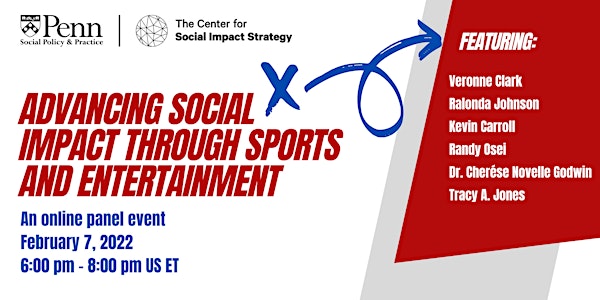 Advancing Social Impact Through the Power of Sports and Entertainment
The Center for Social Impact Strategy invites you to a panel discussion on sports, entertainment, and social impact.
About this event
Sports and entertainment industries offer powerful tools for bringing communities together and creating positive change. This panel features industry leaders working to create social impact at varying scales and from unique vantage points, including corporate social responsibility, marketing, technology, finance, and arts and culture.
Through an interactive panel discussion, we will explore innovative approaches to creating impact through sports and entertainment and important considerations for building relationships with athletes, celebrities, and funders. Participants will walk away from this online event with new ideas about the possibilities and potential of sports and entertainment as forces for good.
About the Panelists
Veronne Clark, Sacramento Kings, Manager of Social Responsibility
Veronne Clark is a Social Responsibility professional in the sport and entertainment industry. Veronne has worked with the NBA, NFL, NBC Universal, Entercom, and Legends where she is an individual that has experience in programming, public speaking, and community engagement. Veronne is a dynamic communicator within the entertainment industry that has curated blueprints for high-end operations and social impact engagements, through operational strategies pertaining partnerships and activations. She has an advanced understanding of objectives, strategies, and tactics within an organization to empower employees to find purpose in the workplace.
Ralonda Johnson, Partner & President, Malcolm Inc. & Broad St. Ventures
Ralonda serves as the President and Chief Investment Officer of Malcolm Inc., overseeing investment and financial decisions for the various portfolio companies. Ralonda is also the Co-founder and General Partner of Broad St Ventures, a multi-million dollar venture capital fund co-founded by two-time Super Bowl Champion Malcolm Jenkins.
Prior to her current roles Ralonda Johnson was a veteran in the accounting and finance industry. She has over a decade of experience which includes leading operational and financial audits at the Sifi designated leading insurance company Prudential Financial and luxury jeweler Tiffany & Co. She has also led external audits and provided assurance on financial statements for SEC clients during her tenure at Ernst & Young LLP. Her most notable client included an investment management firm with $70 billion dollars of assets under management which specializes in asset-based investing in private equity and credit funds.
Ralonda has a Masters in Financial Accounting from Rutgers University Business School. She lives in New Jersey with her husband Joe Johnson and their two daughters Raven and Riley.
Kevin Carroll, Author and Creative Catalyst
Kevin's job to inspire businesses, organizations and individuals – from CEOs and employees of Fortune 500 companies to schoolchildren – to embrace their spirit of play and creativity to maximize their human potential and sustain more meaningful business and personal growth.
He has helped turn creative ideas into reality for organizations such as Nike, Starbucks, Adidas, Walt Disney, Target, Proctor & Gamble, Under Armour, Mattel, the NBA and many others. Raised by his grandparents in Philadelphia, Kevin spent endless hours at the neighborhood playground where he found his calling: a red rubber ball. His subsequent pursuit of play and his 'red rubber ball' took him overseas with the Air Force, where he served as a language interpreter and translator, gaining fluency in Croatian, Czech, Serbian, and German.
After serving in the Air Force for ten years and earning his college degree, Kevin became an athletic trainer at the high school and collegiate levels in Philadelphia. His expertise in sport performance was recognized by the 76ers organization and led to his job as the Head Athletic Trainer for the Philadelphia 76ers in 1995. While at the 76ers, Nike tapped Kevin to bring his unique experiences to the sneaker giant in 1997.
Although no job "officially" existed at the time, Kevin was directed to create a position at the company that would add value to the overall mission of the brand. Kevin left Nike in 2004 to create his own company, Kevin Carroll Katalyst, committed to elevating the power of sport and play around the world.
Randy Osei, Athlete Tech Group, Founder
Building relationships has always been a strong suit for serial entrepreneur, Randy Osei. After playing all through university, in 2013 he decided to trade in his jersey for the business side of sports. In 2015, Osei launched Rozaay Management, a creative marketing and branding agency based in Toronto, Canada. He soon expanded his reach to Los Angeles, helping to grow Embellish into a multi-million dollar company. Rozaay Management is now one of Canada's most influential agencies, working with over 50 brands, 20+ media outlets, 50+ influencers and over 150 professional athletes from the NBA, NFL, CFL, and MLS. Randy has also launched Atlas 365 Inc. that is transitioning society to a low carbon economy usingindustrial hemp.
Randy launched the Athlete Tech to introduce professional athletes to Toronto's amazing Technology ecosystem. From a love for the game to having a global impact – Osei and Rozaay Management continue to leverage fame at every turn.
Dr. Cherése Novelle Godwin, School of Social Policy and Practice, University of Pennsylvania
Dr. Cherése Novelle Godwin is a University of Pennsylvania Social Work Hall of Fame Inductee. She specializes in Social policy, social entrepreneurship/social enterprise, and program development and evaluation for social, racial, and environmental justice and social impact. She's worked in higher education for the past twelve years and for seven years has worked domestically and internationally consistently developing social policy, country-wide programs, and mental health in the workplace, environment and sustainability training across the Caribbean, Latin America, and Europe. She is a current Temple University Assistant Professor of Social Work, a Policy Expert and Lecturer at the University of Pennsylvania, and social impact and policy consultant.
Tracy A. Jones, T. Alexander Foundation, Founder and Executive Director
Tracy A. Jones is a Nonprofit/NGO Strategist who partners with social entrepreneurs, grassroots leaders, executives, organizations, and communities to leverage the intersections within sports to advance communities.
Tracy holds a dual bachelor's degree in Accounting and Sports Management from Widener University and a Masters in Nonprofit/NGO Leadership from the School of Social Policy and Practice at the University of Pennsylvania. In addition to his formal education, Tracy has over a decade of public accounting, social impact, and financial consulting experience.
About the Center for Social Impact Strategy
The Center for Social Impact Strategy (CSIS) is a research and action center based in the University of Pennsylvania's School of Social Policy & Practice. Our mission is to make tools and resources for social impact available to anyone, anywhere. We believe in providing cutting edge content with immediate real world application. Our programs are designed for accessibility and affordability. Our students are world-changers in all sectors -- from nonprofit, business, government, and community organizations, and our goal at CSIS is to train and equip these changemakers with the tools and community that will help them make change.