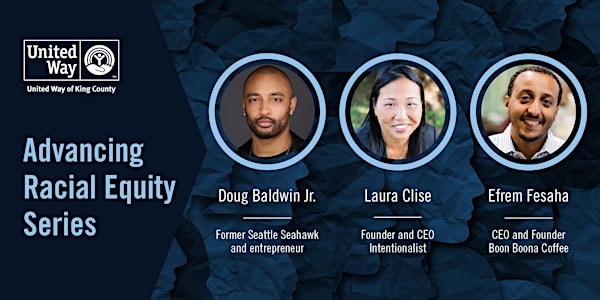 Advancing Racial Equity: How BIPOC Businesses Benefit Us All
To honor Dr. King's legacy of economic empowerment of communities of color, we invite you to join us on January 25th at Seattle University.
When and where
Location
Pigott Auditorium, Seattle University 901 12th Avenue Seattle, WA 98122
About this event
Hear from a dynamic panel of entrepreneurs and business leaders of color and learn about how these leaders are investing in people and strengthening their communities.
Panelists:
Doug Baldwin Jr. - Former Seattle Seahawks wide receiver and entrepreneur
Efrem Fesaha - CEO and founder of Boon Boona Coffee
Laura Clise - Founder and CEO of Intentionalist
BIPOC-owned businesses support families, employees and other business owners as well as attract community investors who can provide banking services, venture capital and loans, promote equitable employment policies, and build new infrastructure that can revitalize entire neighborhoods.
Join us to learn what inspires these leaders to make an impact in their communities, the challenges they've overcome, and what you and your network can do to support businesses from underrepresented communities.
Following the panel discussion, you're invited to stay for a reception to meet the panelists and mingle with attendees. Lite appetizers and beverages will be provided, including Boon Boona coffee!
If the ticket price is a barrier for you to attend, please email us at eventregistration@uwkc.org for a free ticket code.
This event is brought to you in partnership with:

Thanks to these community partners, proceeds from this event will benefit the Black Community Building Collective and the Indigenous Communities Fund.