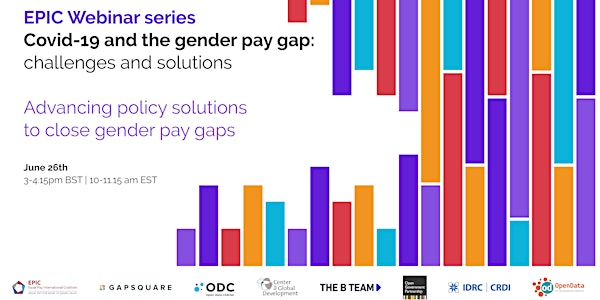 Advancing policy solutions to close gender pay gaps
Join us for the first virtual roundtable to advance policy solutions to close gender pay gaps in the workforce
About this event
With the immediate health risks and economic impacts of COVID-19 top of mind, evidence suggests that progress in closing gender pay gaps may stall or reverse at a time when this progress is most needed.
Against this backdrop, the Equal Pay International Coalition (EPIC) members join forces to host a series of webinars to look at the impact of COVID-19 on gender equality and diversity in the world of work with a focus on practical solutions to address the gender pay gap, leading up to the International Equal Pay Day on 18 September 2020.
To kick-off this collaborative initiative, we invite you to join us for the first virtual roundtable on Advancing policy solutions to close gender pay gaps on June 26th at 3pm BST / 10am EST to discuss:
What are the necessary solutions for leaders in government, business, and trade unions to champion? How can we effectively collaborate to develop a healthier, caring, and more equitable economy?
Whether you focus on labor policies, business leadership or open and inclusive government principles, you are likely to encounter similar challenges when addressing this pernicious form of inequality impacting women, minorities, and persons with disability and can share lessons from related tactics.
Ahead of this gathering, we would ask you to read and leave comments in this collaborative memo that captures potential solutions and roles for governments and business leaders to close gender pay gaps. Speakers will comment on in, and we will encourage participants' reactions too.
We aim to develop a shared understanding of underlying causes of gender pay gaps, identify promising solutions for key labour market actors to champion, and explore possible joint agendas for campaigning, advocacy, and research.
--
Participants: Governments, employers, workers, global gender equality advocates. People making decisions that will impact all, but could impact women, minorities, and employees with disabilities the most and are interested in engaging in discussion about practical solutions.
Hosted by: Open Data Charter, Center for Global Development and The B Team, with support from the International Development Research Centre (IDRC) and the Open Government Partnership, within the framework of the Equal Pay International Coalition (EPIC).
Languages: English (Interpretation into FR and ES could be considered if requested or depending on registration).
--
Other events in this series:
16th July - 4:00 PM – 5:00 PM BST - The Practicalities of Leading Inclusively During Crisis by Gapsquare and PWC Switzerland, within EPIC's framework.