Advancing Muslim American Health Priorities + Islamic Bioethics Symposium
About this Event
Join the Initiative on Islam and Medicine at the University of Chicago in collaboration with Umma Clinic, Whitestone Foundation, and Worry Free Community for a 3-Day A-MAP (Oct. 18-20)conference exploring the religious dimensions of mental, reproductive, and sexual health.
A-MAP, the culmination of our Engaging Muslim Americans for Research on Community Health [E-MARCH] project, is a landmark conference on Muslim health disparities that is unlike any other event you've attended. In designing this conference, we wanted to ensure that we addressed questions important to Muslim communities across the U.S. To do so, we created a space for Muslim religious leaders, clinicians, researchers, and advocates from across the country to discuss health concerns important to their communities. This discussion brought us directly to the A-MAP themes of Muslim mental, reproductive, and sexual health.
A-MAP is going to address these themes by convening panel presentations with round table discussions where you can provide insight into how these concerns can be addressed in the mosque community. Additionally, our E-MARCH cohort will be presenting their project ideas to a panel of experts in a one-of-a-kind health research Shark Tank setting.
This conference will:
1. Draw attention to Muslim American community health challenges
2. Explore mosque-based, patient-centered outcomes research approaches to mental, reproductive, and sexual health concerns
3. Produce white paper(s) outlining an agenda for Muslim patient-centered outcomes research and best practices for mosque community-based research
4. Foster collaboration between community leaders, patients, and other health stakeholders to better facilitate research, interventions, and programs that address Muslim health
Following A-MAP 2019 weekend, is the Islamic Bioethics Symposium (Oct. 21) which will highlight normative pieces on the same topics. See below for more info.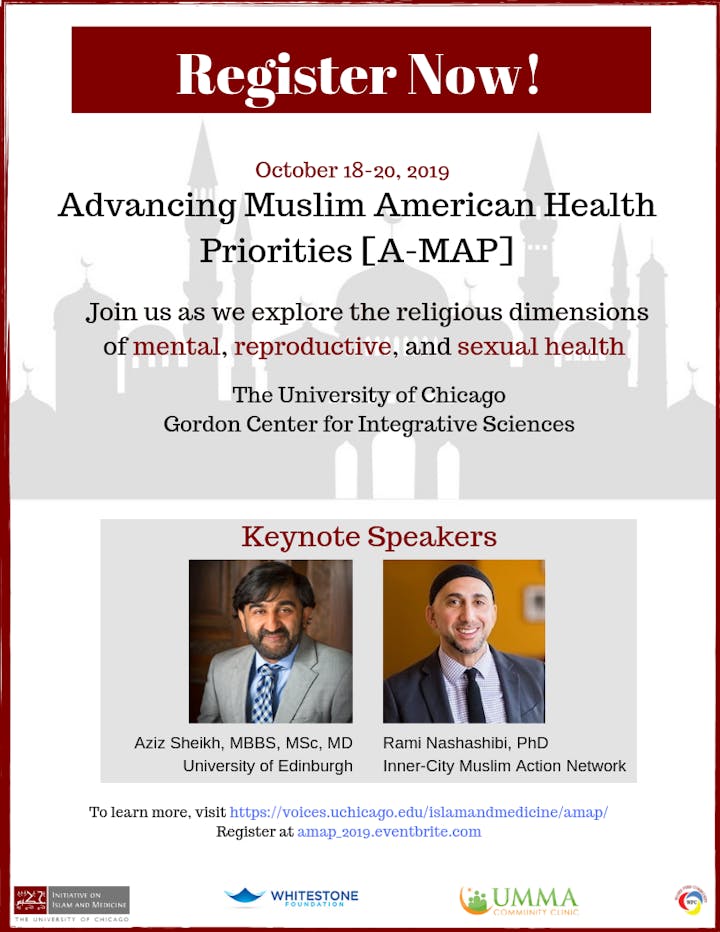 **IMPORTANT REGISTRATION INFORMATION**
Registration for A-MAP 2019 includes access only for 3-Day conference (Oct. 18-20). The Dinner and Bioethics Symposium (IBS Oct. 21) are tickets sold separately. There are discounted prices for a combined AMAP and IBS package. The dinner is reduced to $35 with the purchase of any other ticket. If one plans on attending the Full A-MAP conference, dinner, and Islamic Bioethics Symposium, and dinner simply select AMAP and IBS at the rate of either student, allied health, or physician pricing in addition to a dinner ticket ( 2 tickets total).
Check out our website for more information on speakers, conference program, and lodging accommodations for both A-MAP 2019 and IBS.