Advancing Health: Awareness, Advocacy, and Action in the Black Community
Black Nurses Celebrate African Heritage by Educating, Empowering, and Entertaining attendees.
About this Event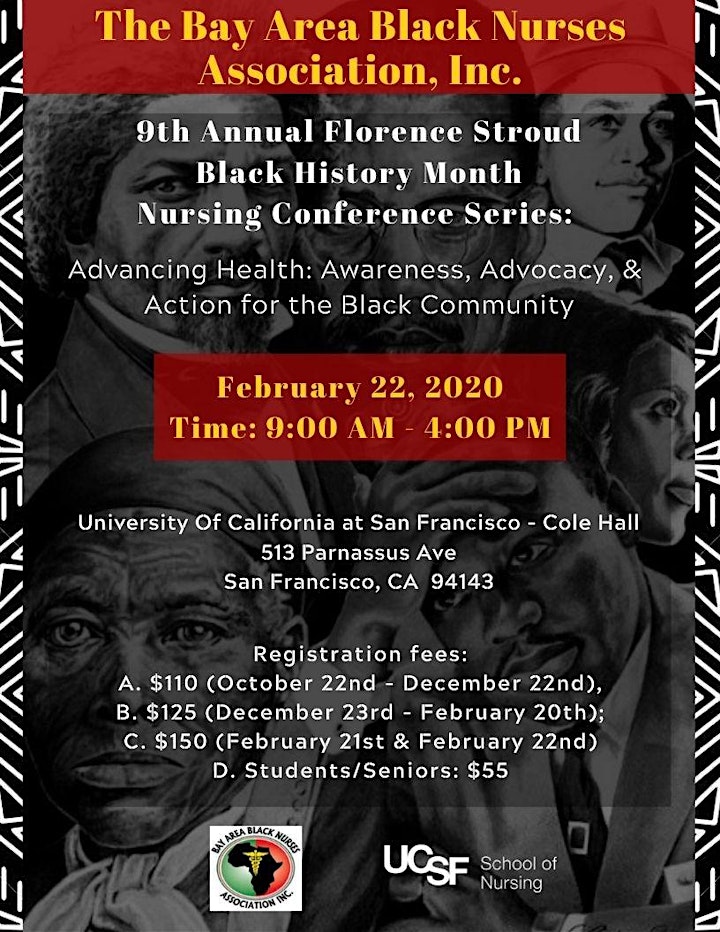 Join the Bay Area Black Nurses Association (BABNA), Inc. for it's 9th Annual Florence Stroud Black History Month Nursing Conference Series 2020. This year the University of California at San Francisco will host this event. Come out if you are a Nursing student, Nurse, Physician, health care provider, or just interested in learning how you might be able to impact the issues affecting the Black Community in a positive manner.
The agenda for the conference includes an educational framework and the honoring of a well-deserving Nurse with the Florence Stroud Pioneer award. A trailblazer in her own right, Ms. Florence "Flo" Stroud was the first African American to serve as the Health Director for the city of Berkeley, professor and head pediatric Nurse at UCSF Medical Center, researcher on health disparities in ethnic communities, held many appointments at the local and state levels, and was the Co-founder of BABNA. Acknowledging Ms. Stroud's phenomenal contributions to advancing the Nursing profession and advocating for the quality of healthcare in the African American community, BABNA commemorates a practicing Nurse who exemplifies the trailblazing efforts of Ms. Flo Stroud during the conference.
We will cover issues across the lifespan, from infant mortality, to gerontology, population health to mental health.
Our objective is to Educate, Empower, and Entertain you with new knowledge that will prepare you to care for and support the Black Community. The entertainment portion of the conference consists of our soul riveting song and dance performances, paying homage to African heritage and culture.
You will not want to miss this inspiring event geared toward discussions around health disparity, increasing diversity among care providers,and encouraging growth mindset and life long learning.
Included with each registration, participants will be provided: breakfast, lunch, and 5 continuing education units for licensed professions.
* Vendor fee includes 1 table, 2 chairs and 1/2 page ad in conference book.
Register by January 22, 2019 to guarantee your seat at the table and a chance to engage with phenomenal students and professionals. Opportunities are also available to showcase your health care organization, academic institution, and merchandise to participants. For vending and/or advertising inquires, please contact: Kim Scott (kim@kimjscott.com). Register today. We look forward to seeing you.
5 Continuing education credits will be provided
Provider # 9053