How purpose-driven business leaders can model Women's Rights Champions to embed DEI in their company cultures.
About this Event
In a time when women* – especially women of color – still struggle with wage and workplace inequities, our unconscious gender biases inadvertently get in the way of establishing the workplace fairness you desire.
How do we as organizational leaders, regardless of our gender identities and lived experiences, step in to create safe workplaces where all genders can thrive?
Talking about these issues can be hard… because, leaders like us know gender inequities exist in our sphere of influence, and bringing them to light means we actually have to come face-to-face with our role in the problem and invest ourselves in being part of the solution.
The question is: wouldn't it be worth the investment for everyone to feel valued and contribute to a better organization and a better world – regardless of and in honor of their gender?
When it comes to engaging diverse groups of people in a movement towards equitable work treatment and pay, we can study the efforts of Esther Peterson and other Women's Rights Champions to understand and model how they used their privilege to move millions of people toward positive change despite adversity.
In honor of Women's History Month, this Special Executive Training with Kemy Joseph, DEI Specialist and Co-Founder of F.E.A.R.S. Advantage™, you will:
Learning Outcomes
Flip the script on privilege and gender so your team members can feel more confident about leveraging their time, talents, and treasures to create the innovative solutions needed to thrive in this market.
Model leadership lessons from the Women's Rights Movement to keep your executive team engaged and committed to meaningful DEI (Diversity, Equity, and Inclusion) actions so you can lead more safely and equitably in 2021.
How to capitalize on employees' "what can I do?" enthusiasm to drive real behavior change that creates the environment for DEI to thrive in your organization.
This event is open to organizational leaders of all genders. In honor of Women's history month, we're addressing the topic of gender equity with a focus on the Women's Rights Movement and advancing equity for women in the workplace. The lessons from this presentation can be applied to all genders.
* with the word woman we are referring to anyone who chooses to identify as a woman and/or who has or has had a lived experience of being a woman.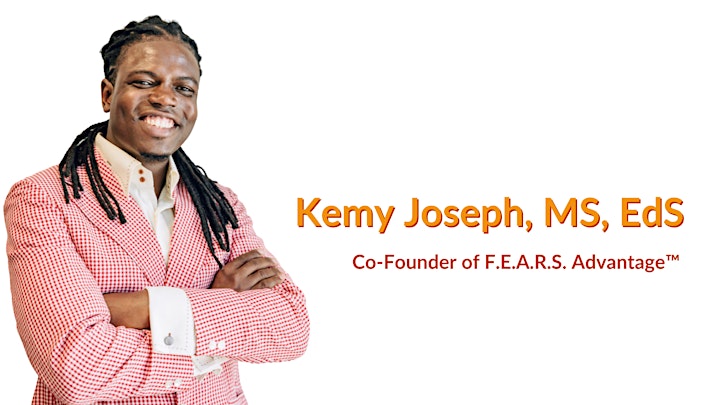 About Kemy Joseph, MS, EdS - CEO & Co-Founder of F.E.A.R.S. Advantage™
Kemy Joseph is on a mission to help 5 Million business leaders advance equity in their organizations by 2030.
Kemy helps purpose driven business executives levage equity as a pathway to prosperity to effectively lead their diverse teams through conflicts involving race, politics, and privilege. In a time where people feel so disconnected and unsafe, he's able to create virtual safe spaces where people have real conversations that build trust, repair relationships, and create new sustainable solutions. He also uses a multi-camera setup with music, stories, and group exercises to create highly engaging, transformational experiences!
Most people see Kemy's bright smile, but wouldn't imagine the hardships behind it. Being raised in Miami, FL as a first generation Haitian American, he lived in a single-parent household with nine siblings where poverty, violence, and racial inequity traumatized him at an early age.
Growing up, he was socialized as a sexist, racist, homophobe, bigot, bully, and criminal.
As an adult he's made the extraordinary effort to re-socialize himself into a human being — a healthy, educated black man who respects women, celebrates diversity, and supports the equal rights of all people. His journey represents the transformation that's possible when we use negative experiences for positive change and learn the skills we need to treat others equitably. From that humbled perspective, he brings a great deal of empathy, hope, and productivity to these often difficult conversations.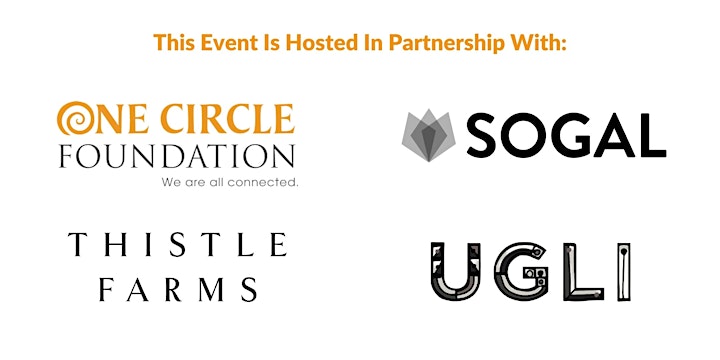 One Circle Foundation promotes resiliency and healthy relationships in children, youth, adults, and communities with research-based, gender-responsive circle models.
SoGal Foundation is a global, inclusive community that seeks to serve, support, and highlight all folks in entrepreneurship who are traditionally underestimated. While anyone is welcome to attend our initiatives, we prioritize the voices of women, Black folks, Indigenous folks, people of color, LGBTQIA+ and queer folks, people who are differently-abled, and immigrants.
Thistle Farms is a nonprofit social enterprise dedicated to helping women survivors recover and heal from prostitution, trafficking, and addiction. They do this by providing a safe place to live, a meaningful job, and a lifelong sisterhood of support.
UgliVentures is a catalyst for startups that demonstrate a strong foundation. As a growth consultancy, we are focused on helping women think BIGGER about their businesses and giving them the tools to grow. We do this through marketing mentorship programs, fractional CMO services, and investor connections.
This Special Event is a free event hosted on Zoom. You will receive the Zoom registration link once you RSVP. Please plan to arrive 5 minutes early to accommodate for tech snags!
Please note: By registering for this free event you will be added to the F.E.A.R.S. Advantage™ mailing list.