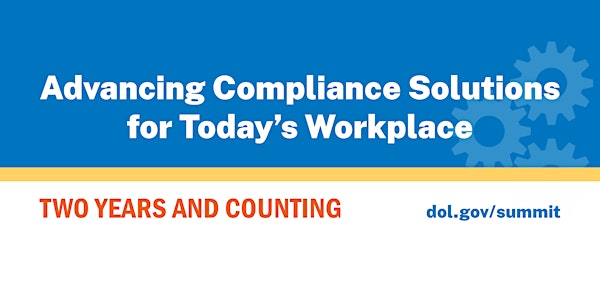 Advancing Compliance Solutions for Today's Workplace, 2 Years and Counting
U.S. Department of Labor Summit for Employers on Compliance Assistance and Recognition Award Programs
About this event
The U.S. Department of Labor will host, "Advancing Compliance Solutions for Today's Workplace, Two Years and Counting," a summit showcasing the Department's ongoing efforts to help employers comply with federal labor laws and inform workers about their rights through its modernized tools and employer recognition award programs. The event will take place on Monday, September 14, 2020.
Hosted by the Department's Office of Compliance Initiatives, the event will feature conversations on the Department's voluntary compliance assistance and award programs, including the:
Wage and Hour Division's (WHD) Payroll Audit Independent Determination program;
Veterans' Employment and Training Service's HIRE Vets Medallion Award program; and
Office of Federal Contract Compliance Programs' (OFCCP) Excellence in Disability Inclusion Award.
It will also highlight the Department's innovative and modernized compliance assistance tools through a conversation with panelists from the Office of Disability Employment Policy, OFCCP, and WHD. Remarks and panel discussions will be livestreamed at dol.gov/summit.
Find a full schedule of the program at dol.gov/summit and register to participate in a breakout session. If you can't join the live event, register now and we'll let you know when the recorded webcast is available to watch at your convenience. If you have questions, please contact compliance@dol.gov.