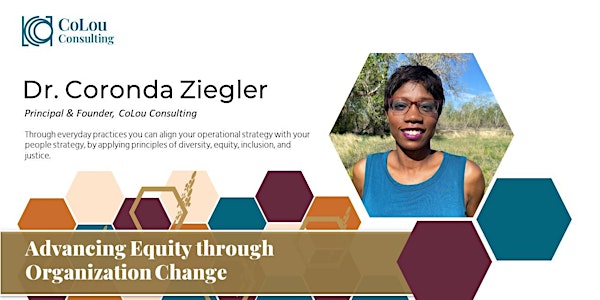 Advancing a Culture of Equity
Diversity, equity, inclusion, and justice as well as organizational change are mutually reinforcing. Learn how to bridge the two.
About this event
Organizational change is inevitable and constant. Yet, can be successful with a strategic change roadmap that defines, focuses and integrates the change effort. Effective change requires focusing on actors, systems, and structures. A focus that requires applying principles of diversity, equity, inclusion, and justice.
The biggest barrier to advancing equity in your organization, is knowing how to start the change that is needed. We will discuss strategies and tools to drive, facilitate, and sustain equitable change for your organization.
Participants will learn:
- how to describe the difference between diversity, equity, inclusion, and justice
- 3 core principles of organizational change
- strategies to create equitable organizational change