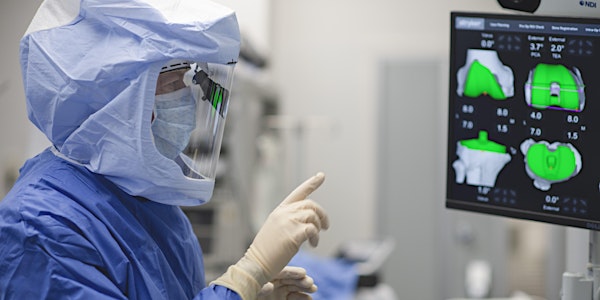 Advances & Innovation in Musculoskeletal Health Series: Technology at HSS
HSS is dedicated to advancing your healthcare. Learn how new technology is helping us to partner with you in improving your health.
About this event
The Advances and Innovation in Musculoskeletal Health Series explores ways that innovation and technology are advancing the care and treatment of orthopedic and rheumatological conditions.
HSS is focused on advancing the field of musculoskeletal care by inventing, managing and commercializing novel concepts and inventions. Our innovation team works closely with physicians, researchers, surgeons and scientists to support new, viable offerings that can improve clinical outcomes, enhance the patient experience or lower the cost of care delivery in a meaningful way. In this webinar, you'll learn how HSS is working to improve the healthcare of all patients through the best technological and individualized treatment. Discussion topics include:
The role of biorobotics and augmented and virtual reality in surgical orthopedic care
New technology to assess your movement, improve mobility and prevent injury
New advances in the diagnosis and care of chronic conditions
How technology is improving patient safety and outcomes
Speakers:
Sandra Bossi, MCM, Director, Care Delivery Innovation
Eytan Debbi, MD, PhD, Orthopedic Surgeon, Adult Reconstruction and Joint Replacement
New date! Wednesday, November 30 | 6:30-7:15 pm | Free
Instructions to join will be shared one day before the class date.
Join our mailing list to learn about upcoming HSS programs. Click HERE and select "Wellness Resources & Events" under HSS Programs and Updates.
HSS Education Institute reserves the right to change or cancel any program. Please review the full program registration, cancelation, and refund policy here.