Advances in Series Compensation of Power Systems

Tuesday, May 24, 2016 from 11:00 AM to 1:00 PM (PDT)
Event Details
IEEE Power & Energy Society Presents
 Advances in Series Compensation of Power Systems
Series compensation of transmission lines is one of the most economical ways to increase power transfer on long transmission lines. Series compensation can increase maximum power transfer limit, improve voltage profile, reduce VAR requirements, reduce operational angle differences and help in balancing the power flows on parallel paths. Series Capacitors have been used extensively in Western US (WECC) since 1960s to improve the power system performance and reactive compensation. Western United States has long transmission lines with generation in north-west and remote areas. Major 500 kV transmission systems were built along with Columbia River generation development in mid-20th century to meet the power needs in Southwestern US system. With long transmission lines, the power system stability was an important issue. Also, as the load grew in LA area more, generation was built in Arizona and New Mexico area, which required long transmission lines to provide power to LA Industrial area. Many of these long transmission lines were series compensated with series compensation levels ranging from 26 percent to 70 percent.
Series capacitors have undergone considerable advancement in last thirty years. The initial multi-segment applications used in sixties showed problems with series capacitor designs and also severe system impacts such as sub-synchronous resonance resulting in damaged shafts at Mohave power plant in Nevada. Research conducted to overcome these issues enabled the industry to develop advanced series capacitor designs including Metal Oxide Varistors, NGH device for SSR protection, Thyristor Protected Series Capacitors (TPSC) and finally the Thyristor Controlled Series Capacitors (TCSC) with dynamic series compensation capability. This presentation will discuss the benefits of series compensation, SSR issues faced at Mohave and some of these technological advancements resulting in present day State-of-the-Art Series Compensation technology.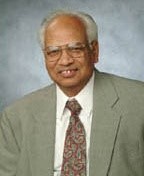 About our Speaker – Mr. Bharat Bhargava is a Consulting Engineer with Advanced Power System Technologies, Inc. This is a new company providing services in Synchro-phasor technology applications and other advanced power system technologies such as advanced series compensation, battery energy Storage and blackout prevention etc.  Mr. Bhargava worked for Southern California Edison from 1978 to 2009 and was very intimately involved with advanced power system technologies such as Synchronized Phasor Measurements, Sub Synchronous Resonance analysis and mitigation, and series capacitor applications etc. He was the project leader for NGH SSR protection scheme evaluation, development and installation at Southern California Edison during 1979 to1984. This NGH technology used the Thyristors with series capacitors for the first time and later developed in to Thyristor Protected Series Capacitors (TPSC) with several installations at SCE during 1997 to 2001. The use of thyristors with series capacitors were also used in Thyristor Controlled Series Capacitor (TPSC) applications. Mr. Bhargava retired from SCE in 2009, and joined Electric Power Group (EPG), LLC, a Company based in Pasadena, California, that pioneers in Synchro-Phasor technology. He has since retired from EPG effective February 1, 2016 and is providing consulting services in some of the above mentioned advanced power system technologies. His other areas of interest include power quality, transient analysis and power system studies.
    Bharat is a senior life member of IEEE and member of CIGRE.  He has participated in several IEEE working groups dealing with series capacitors, sub-synchronous resonance, thyristor Controlled series capacitors etc.  He is also a participant in CIGRE A3.33 series capacitor working. Mr. Bhargava graduated from Delhi University in 1961 and obtained Masters of Science (Power Systems) from Rensselaer Polytechnic Institute in 1976. Before moving to United States, he worked as Executive Engineer with the UP State Electricity Board in India from 1968 to 1975.
When: May 24, 2016 
11:10am        Social and Registration
11:30am        Lunch
11:50am        Open Meeting  
12:00pm       Speaker Presentation
1:00PM         Adjourn
Where: Luminarias Restaurant
3500 Ramona Blvd. Monterey Park, CA
(323) 268-4177
On the Monterey Park Golf Course Grounds
Details: 
•   Advance registration: RSVP on EventBrite by May 17, 2016 
•   Advance registration:  IEEE Members $20.00; Non-IEEE Members $35.00, Students $12.00 (We will collect at the door but we need to confirm attendance with the restaurant.)
•   Late registration: IEEE Members $23.00; Non-IEEE Members $40.00, Students $15.00. 
•   After lunch, attendance for the presentation is free.
Note: Please bing change with you if you would pay cash.
Registration questions?  Please email Hua.Liu@sce.com
2016 IEEE LA Metro(LAC) Section PES Chapter Officers
Chair – Arash Jamehbozorg, PhD
(323) 343 4479, arash.jamehbozorg@calstatela.edu
Vice Chair – Don Laird, P.E.
(818) 397-3833, donlaird@aol.com
Treasurer – Heng (Kevin) Chen, P.E.
(626) 685-2015, H.Chen.US@ieee.org 
Secretary – Hua Y. Liu, P.E.
(909) 274-1657, Hua.Liu@sce.com 
Los Angeles Metro Education Chair – Eremita Miranda
(909) 274-1516, eremitamiranda@sbcglobal.net
Awards Chair –  Akhila Krishnan
(310) 562-4129, akhilakr@usc.edu
Membership Development chair – Mayank Garg             
(213) 245-3376, gargm@usc.edu
When & Where

3500 W Ramona Blvd
3500 West Ramona Boulevard
Monterey Park, CA 91754


Tuesday, May 24, 2016 from 11:00 AM to 1:00 PM (PDT)
Add to my calendar