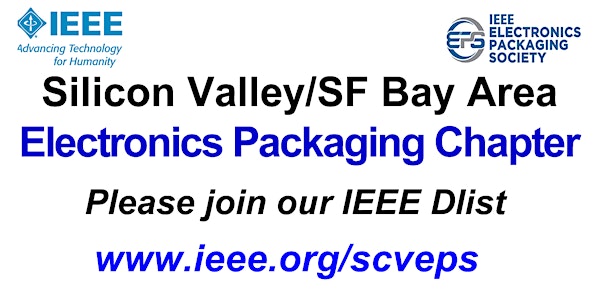 Advances In Electronics For Medical And Industrial Applications -Poliks
Sales Have Ended
Registrations are closed
If you would like to JOIN IEEE please email us.
Flexing, Bending And Stretching Toward Advances In Electronics For Medical And Industrial Applications
About this event
Prof. Mark D. Poliks, Ph.D., Binghamton University
Directions for connecting with the WebEx stream will be sent via email to all registrants 1 day, and 1 hour prior to the event.
11:50 AM - 12:00 PM: Check-in
12:00 PM: Presentation  & QA
WE USUALLY GET the PRESENTER'S SLIDE DECK, but sometimes not. When the speaker provides it, in original or sanitized form, it will be uploaded to the chapter website - www.ieee.org/scveps. Older presentations may also be accessed on the same page.
Summary:
Flexible hybrid electronics (FHE) combine printed electronics on flexible or stretchable substrates with the performance of silicon-based semiconductors to enable applications that include wearable medical devices and industry sensors. This talk will review the challenges associated with interfacing hard and soft electronic components, design, materials selection, printing, processing, and testing of FHE systems. Applications to medical and industrial sensors will be incorporated throughout this presentation; their "concepts of operation" will guide the evaluation of performance and reliability. Outcomes from this work are expected to inform the eventual scale-up to roll-to-roll manufacturing. The IEEE Electronic Packaging Society's Heterogeneous Integration Roadmap (HIR), a pre-competitive collaboration for global industry, academic and government scientists and engineers that are mapping the future of electronics systems, will be introduced. Much of the work presented in this talk was funded by NextFlex (DoD, Manufacturing USA) and is in collaboration with industry and university partners.
Bio:
Mark Poliks, Ph.D. is a SUNY Distinguished Professor of Engineering and Empire Innovation Professor in Systems Science and Industrial Engineering and Materials Science and Engineering at the State University of New York at Binghamton. He is the director of the Center for Advanced Microelectronics Manufacturing (CAMM), a New York State Center of Advanced Technology and home to the New York Node of NextFlex. He serves as Chair of the Smart Energy Transdisciplinary Area of Excellence at the Binghamton campus. His research is in the areas of industry-relevant topics that include high-performance electronics packaging, flexible hybrid electronics, medical and industrial sensors, printed RF components, materials, processing, aerosol jet printing, roll-to-roll manufacturing, in-line quality control and reliability of electronics. He is the recipient of the SUNY Chancellor's Award for Excellence in Research. He received FLEXI awards for leadership in Technology and Education from the FlexTech Alliance in 2009 and 2019, and is Fellow of NextFlex Manufacturing USA. Poliks has had significant experience working in the electronics industry as senior technical manager at the IBM Corporation and at Endicott Interconnect Technologies, Inc. He is an active member of IEEE, serves on the board of governors, is a distinguished lecturer for the IEEE Electronics Packaging Society, and was General Chair of the 69th ECTC. He has authored over one hundred fifty technical papers and holds forty-eight US patents.
- stretchability, design, materials selection, printing, processing, testing, scale-up, roll-to-roll, applications ... .. ...