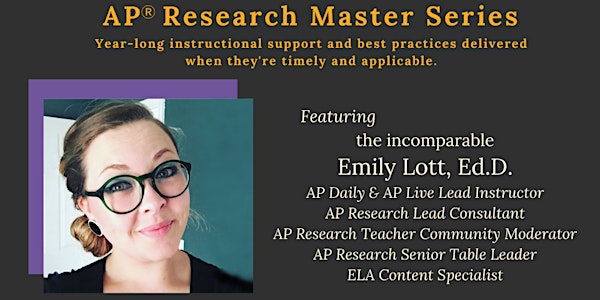 AdvanceKentucky APⓇ Research Master Series
AdvanceKentucky is pleased to offer its 2022-23 yearlong APⓇ Research Master Series!
About this event
Year-long instructional support and best practices delivered when they're timely and applicable. Registrants are encouraged to attend all sessions live, but each class will be recorded and made available for on-demand viewing.
Sessions will be held via Zoom from 8:30-10:00am ET
September 10: Building and Sustaining Connections to the Community of Practice
October 1: Moving beyond Survey Research in the Social Sciences
November 5: Coaching Students through the Inquiry Proposal Form (IPF)
December 3: Using the Inquiry Proposal Form to set up 2nd Semester Support
January 7: Data Visualization for the Academic Paper and Presentation
February 4: Workshopping Student Needs
March 4: Preparing for the POD (Presentation and Oral Defense)
April 1: Last Minute Peer Review Activities
May 6: Now What? Class time after submission
(Presenters and topics are subject to change.)
Registrants will be sent information to join a Google Classroom, where all communication will be available.
APⓇ is a trademark registered by the College Board, which is not affiliated with, and does not endorse, this product.
Please contact Stephanie Carter (scarter@kstc.com) with any questions.