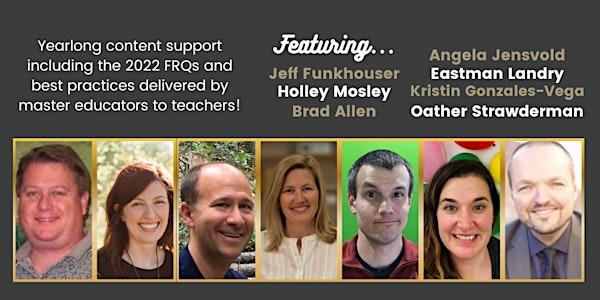 AdvanceKentucky APⓇ Physics C: Mechanics Master Series
AdvanceKentucky is pleased to offer its 2022-23 yearlong APⓇ Physics C: Mechanics Master Series!
About this event
Led by experienced presenters, monthly sessions will cover content (including the 2022 FRQs), best practices, and student engagement. Registrants are encouraged to attend all sessions live, but each class will be recorded and made available for on-demand viewing.
Sessions will be held via Zoom from 9-10:30am ET
September 17 - Calculus in Real Life w/Brad Allen
October 15 - Why Do Things Accelerate w/Jeff Funkhouser
November 19 - Work and Energy Applications for Non-Constant Forces w/Angela Jensvold
January 21 - Conservation Laws: What is Conserved? When? How? w/Eastman Landry
February 18 - Simple (and not-so-simple) Harmonic Motion with Calculus w/Holley Mosley
March 18 - Everything Your Students Should Know about Angular Momentum (but are afraid to ask) w/Kristin Gonzales-Vega
April 15 - Gravitational Force, Potential, and Potential Energy w/Oather Strawderman
(Presenters and topics are subject to change.)
Registrants will be sent information to join a Google Classroom, where all communication will be available.
APⓇ is a trademark registered by the College Board, which is not affiliated with, and does not endorse, this product.
Please contact Lew Acampora (lacampora@kstc.com) with any questions.